Residence Move-In Day & Residence Orientation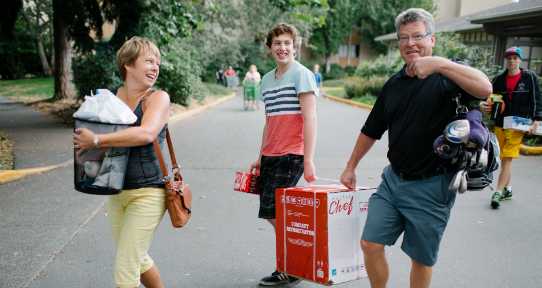 September 6 & 7, 2020
If you're living in residence at UVic this fall, Residence Move-In Day and Residence Orientation are for you!
---
Residence Move-In Day (September 6)
It's finally time to move in to your new home! UVic staff and students will be on hand all day to help you get your keys, get settled and answer any questions you may have. Residents can expect an email with further information about Move-In Day details and times in August. 
On Move-In Day, you will:
Meet and hear from our staff team about living in residence
Pick up your keys and gain access to your new home
Get your ONECard, which acts as your meal card and more
Move in your belongings and begin to unpack
Take time to explore UVic's campus with your family
Be sure to check your email throughout the summer for details on Residence Move-In and visit the Residence Services website for more information, including recommendations on what to bring and what to leave behind.
---
Residence Orientation (September 6 & 7)
Once you've settled into your residence room and bid farewell to your parents and family, join your new neighbours for the Residence Orientation program.
Residence Orientation begins Sunday, September 6 and will continue through Monday, September 7.
After moving in on Sept. 6, you will: 
Meet your community leader, residence support staff and floormates and begin to form lasting friendships
Learn about  your rights and responsibilities as a residence community member
Engage in social activities, both in-person and online, and develop your identity as a UVic Vike!
On Sept. 7, you will:
Explore residence, campus and our green spaces with Residence Orientation Leaders
Attend workshops to learn more about campus services and academic success
Meet more of your peers and connect through both virtual and small-group social events
Detailed Residence Orientation schedules will be available in the final week of August. 
Each residence neighbourhood has a different Residence Orientation schedule. Find yours in the list below:
Cluster Neighbourhood (PDF, 662 KB)
Craigdarroch Neighbourhood: Sir Arthur Currie, David Thompson (PDF, 662 KB)
Gordon Head Neighbourhood: Haig-Brown, Poole, Wallace and Wilson (PDF, 662 KB)
McGill/Park Neighbourhood: Hugh Stevens, Joseph Cunliffe, Park, Shirley Baker (PDF, 662 KB)
Ring Road Residence (PDF, 488 KB)
---
Registration
All students living in residence are automatically registered for Residence Orientation and will receive further information from their Community Leader when they move in. 
UVic Residence is committed to making events as accessible and barrier-free as possible. If you have any accessibility needs in order to participate in our events, please email resed@uvic.ca.