Residence Move-In Day & Residence Orientation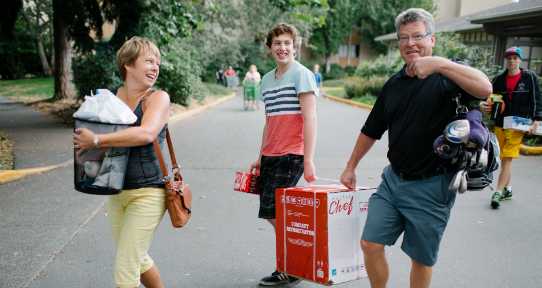 Sunday, September 1 to Monday, September 2, 2019
If you're living in residence at UVic this fall, Residence Move-In Day and Residence Orientation are for you!
---
Residence Move-In Day
It's finally time to move in to your new home! UVic staff and students will be on hand all day to help you get your keys, get settled and answer any questions you may have. Move-In runs from 8 a.m. to 5 p.m. 
For students:
Pick up your keys and gain access to your new home
Get your ONECard, which acts as your meal card and more
Move in your belongings and begin to unpack
Purchase lunch at the Food Services BBQ
For parents and families:
Attend a 30-minute info session to learn more about residence life and meal plans (10 a.m., 12 p.m., and 2 p.m.)
Visit the information fair to get answers to all your questions from university staff
Participate in a 75-minute campus tour and get to know campus (10:30 a.m., 11:00 a.m., 11:30 a.m., 12:30 p.m., 1:00 p.m.) >> Register for a tour
Purchase lunch at the Food Services BBQ (11 a.m. to 3:30 p.m.)
Attend a Faculty Parent Reception (for parents and families of Humanities and BCom students only)

Humanities Parent Reception: 3 p.m. - 5 p.m. in the Student Union Building (SUB) Upper Lounge >> Email humsdev@uvic.ca to RSVP
BCom 101- Gustavson Parent Welcome: 3:00 p.m. - 4:15 p.m. in the David Lam Auditorium, MacLaurin Building >> RSVP here

 

Be sure to check your email throughout the summer for details on Residence Move-In and visit the Residence Services website for more information, including recommendations on what to bring and what to leave behind.

Note: If you are registered for International Student Welcome, Graduate Student Orientation or are participating in varsity tryouts, you may be eligible for an early move-in date. Applications for early move-in will be available on the Residence Services website in July.

---

Residence Orientation

Once you've settled into your residence room and bid farewell to your parents and family, join your new neighbours for the Residence Orientation program.

Residence Orientation begins at 5 p.m. on Sunday, September 1 and will continue through Monday, September 2. 

Meet your Community Leader and floormates and begin to form lasting friendships
Learn about community living standards and your rights and responsibilities as a residence community member
Find your way to the cafeteria, laundry room, lounges and other need-to-know residence locations
Engage in group social activities, including games night and a beach trip
Each residence neighbourhood has a different Residence Orientation schedule. Find yours in the list below:
Cluster Neighbourhood (PDF, 725 KB)
Craigdarroch Neighbourhood: Margaret Newton, Emily Carr, Sir Arthur Currie, David Thompson (PDF, 730 KB)
Gordon Head Neighbourhood: Haig-Brown, Poole, Wallace and Wilson (PDF, 728 KB)
Lansdowne Neighbourhood: Carrol, Helmcken, Hodges, Ravenhill, Sanderson, Lansdowne 1 (PDF, 731 KB)
McGill/Park Neighbourhood: Hugh Stevens, Joseph Cunliffe, Park, Shirley Baker (PDF, 737 KB)
Ring Road Residence (PDF, 728 KB) 
---
Registration
All students living in residence are automatically registered for Residence Orientation and will receive further information from their Community Leader when they move in. 
UVic Residence is committed to making events as accessible and barrier-free as possible. If you have any accessibility needs in order to participate in our events, please email resed@uvic.ca.