International Student Welcome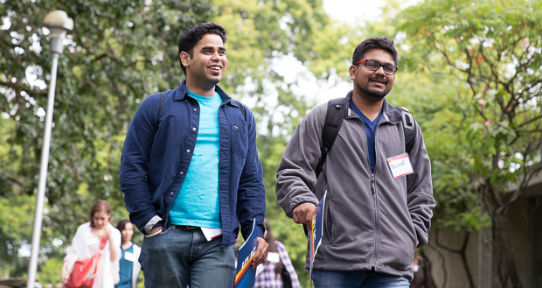 September 1, 2022
As an international student, you have a unique experience transitioning to university and life in Canada, so we have designed an orientation program just for you. International Student Welcome will introduce you to UVic staff and students who will help you settle into your learning at UVic.
Make new connections with fellow students while discovering important campus resources
Meet the International Centre for Students team
Learn about Canadian culture
Get help with immigration documents, health insurance and other important tasks
For questions about International Student Welcome, please contact the International Centre for Students at gcmentor@uvic.ca.
---
Program
International Student Welcome will be a full day of in-person programming that will start with an opening ceremony, include lunch and information sessions, and end with a social that will connect you with new friends, campus resources and the International Centre for Students team. 
A detailed schedule will be posted in mid-July. 
---
Registration
International Student Welcome is for all new international undergraduate and graduate students, including degree-seeking and short-term exchange students, study abroad students and visiting students. 
Registration for International Student Welcome will open in mid-July. 
International students who are participating in International Student Welcome Week and will be living in residence may be eligible to move in as early as August 30, 2022. Applications for early move-in will be available on the Residence Services website in mid-July.
UVic Orientation and the International Centre for Students are committed to making our events as accessible and barrier-free as possible. If you have any accessibility needs in order to participate in our events, please provide details when you register and/or contact us at gcmentor@uvic.ca.
---
International Student Welcome Week
August 30 - September 4, 2022
In addition to the International Student Welcome, the International Centre for Students and the UVic Global Community have organized a full week of fun social programs that offers opportunities to meet both international and domestic students, will help you learn more about UVic and Victoria, and will ease your transition to Canada. We hope you will join us!
A full schedule will be released in mid-July, but here are some examples of what will take place!
| | |
| --- | --- |
| Event | Description |
| Global Community hike | Hike with the Global Community to explore Mystic Vale and other surrounding areas of UVic. Learn about the history and geography of the area while meeting new friends!  |
| Find your classroom tours | Meet a Global Community volunteer to help find your classrooms before the first day of classes! Bring your course schedule with classroom details and our volunteers will lead you there.  |
| Bus tours | Learn more about the Victoria BC bus system with a Global Community volunteer by travelling by bus to downtown and the Bay Centre, or visiting Uptown Shopping Centre.  |
| Cadboro Bay beach social | A fun trip to the beach, less than 10 minutes from the UVic campus! Play frisbee, soccer, or other beach games, enjoy light refreshments, and meet new friends! Volunteers will guide you to the beach from campus. |
| Global Community Board Game Café | The Global Community invites you to attend their Board Game Café. Have fun and make new friends in this relaxed and friendly atmosphere. You can play an old game or learn a new one! We hope you'll join us! |
---
Other programs supporting international students
Mentorship Program
The Mentorship Program offers friendship and guidance for international students as they navigate their social and academic transition to UVic and Canada.
Conversation Partners
The Conversation Partners Program provides students with opportunities to practice and build confidence in their conversational English skills.
Global Community Events
The Global Community hosts a number of events and activities that celebrate diversity and foster intercultural connections! They are open for all students.