International Student Welcome Week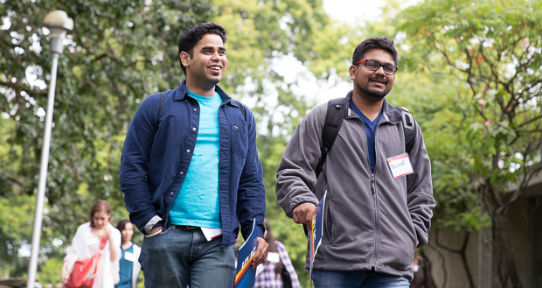 August 30 - September 6, 2021
As an international student, you have a unique experience transitioning to university and life in Canada, so we have designed an orientation program just for you. The International Student Welcome program will introduce you to UVic staff and students who will help you settle into your learning at UVic.
Make new connections while discovering important campus resources
Meet the International Student Services team
Learn about Canadian culture
Get help with immigration documents, health insurance and other important tasks
For questions about International Student Welcome, please contact International Student Services at gcmentor@uvic.ca.
---
Program
From August 30 - 31, all International the International Student Welcome programming will take place online. Programming from September 1 - 6 will take place in-person, in small cohorts and in alignment with public health guidelines. Please note that students who are required to complete the 14 day self-isolation (quarantine) must complete this before attending any in-person programming.
A more detailed schedule will be available later in the summer. 
| | | |
| --- | --- | --- |
| Time | Event | Description |
| August 30 | International Student Welcome opening presentation | This session will formally welcome you to the University of Victoria and establish International Student Services as your home base. You will have the opportunity to meet the International Student Services team, participate in Canadian Trivia, and make new connections with your peers. This event will take place virtually.  |
| August 30 | The international student experience panel and Q&A | Are you interested in learning more about the international student experience at UVic? In this session, you will hear from international students who will share their experiences of studying at the university. You will have the opportunity to engage with the student panelists and ask any questions you may have! This event will take place virtually |
| August 30 & 31 | Parents & families Q&A session | Parents and families are invited to join this session to meet and connect with university staff. Participants will have the opportunity to meet Tricia Best, the Director of International Student Services. This will also be an opportunity for parents and families to ask and get answers to questions that they may have. This event will take place virtually. |
| August 31 | Global Community social drop-in | Hang out with other students in a casual online drop-in social! This is a great opportunity to meet your peers, make new connections, play online games and socialize. Isaac & Bipasa, ISS student staff, will plan fun activities that encourage connection and getting to know new friends from around the world. This event will take place virtually.  |
| September 1 | Global Community hike | Hike with the Global Community to explore Mystic Vale, Mount Tolmie and other surrounding areas of UVic. Learn about the history and geography of the area while meeting new friends! This event will take place in-person. |
| September 1 & 3* | Find your classroom tours | Meet a Global Community volunteer to help navigate finding your classrooms before the first day of classes! Bring your course schedule with classroom details and our volunteers will lead you there. This event will take place in-person. |
| September 2* | Discover your campus | With a team, participate in a cross-campus scavenger hunt to learn about important resources and supports at UVic, meet new people, and discover the UVic campus. End the scavenger hunt with a delicious treat and meet the ISS team at our ice cream social! This event will take place in-person. |
| September 2, 4 & 5* | Bus tours | Learn more about the Victoria BC Transit bus system with a Global Community volunteer by travelling by bus to downtown and the Bay Centre, or visiting Uptown Shopping Centre. This event will take place in-person. |
| September 4* | Victoria photo scavenger hunt | Meet other Global Community members, including our volunteers, international students, exchange students, and study abroad students, while exploring downtown Victoria! The group with the best photos will win a prize. This event will take place in-person. |
| September 6* | Cadboro Bay beach social | A fun trip to the beach, less than 10 minutes from the UVic campus! Play frisbee, soccer or other beach games, enjoy light refreshments, and meet new friends! Volunteers will guide you to the beach from campus. This event will take place in-person. |
*Many International Student Welcome events will take place over multiple timeslots across one or more days, in order to allow us to keep the groups small and COVID-safe. After you register for International Student Welcome, you will be contacted in mid-August to sign up for specific dates and times. 
---
Registration
International Student Welcome Week is for all new international undergraduate and graduate students, including degree-seeking and short-term exchange students, study abroad students and visiting students.
Registration for all orientation programs will open in July.
International students who are participating in International Student Welcome and will be living in residence may be eligible to move in as early as August 31, 2021. Applications for early move-in will be available on the Residence Services website in mid-July.
UVic Orientation and International Student Services are committed to making our events as accessible and barrier-free as possible. If you have any accessibility needs in order to participate in our events, please provide details when you register and/or contact us at gcmentor@uvic.ca.
---
Other programs supporting international students
Mentorship Program
The Mentorship Program offers friendship and guidance for international students as they navigate their social and academic transition to UVic and Canada.
Conversation Partners
The Conversation Partners Program provides students with opportunities to practice and build confidence in their conversational English skills.
Global Community Events
The Global Community hosts a number of events and activities that celebrate diversity and foster intercultural connections! They are open for all students.