International Student Welcome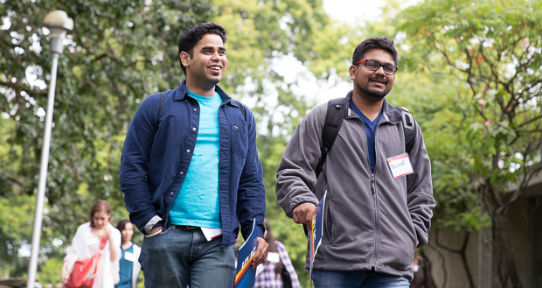 January 14, 2022
UPDATE (Dec. 24): Given the recent announcement by the university that most spring term classes will temporarily shift to virtual learning until January 24, we have decided that January Orientation will shift to virtual delivery. More details will be available in January.
As an international student, you have a unique experience transitioning to university and life in Canada, so we've designed an orientation program just for you. The International Student Welcome program introduces you to UVic staff and current students who will help you settle into life at UVic.
Make new connections while discovering important campus resources
Meet the International Centre for Students team
Learn about Canadian culture
Get help with immigration documents, health insurance and other important tasks
Connect with other new and returning students as well as Global Community volunteers
International Student Welcome will take place virtually. 
For questions about International Student Welcome, please contact the International Centre for Students at gcmentor@uvic.ca.
---
Program
International Student Welcome event will take place virtually on January 14 from 5:30 p.m. to 7:30 p.m.
If you're new to Canada (and even if you've been here for awhile), join us at International Student Welcome to learn about settling into life at UVic. Make new friends, get introduced to Canadian culture, learn about important campus resources and get help with immigration documents, health insurance and other important tasks.
Additionally, throughout late December and January there will be many events and workshops organized by the International Centre for Students and the UVic Global Community that will focus on building your community, getting to know your peers, understanding Canadian culture, and getting to know your campus as an international student. This will include many opportunities to connect during Winter Welcome (January 5 - 7).
---
Registration
International Student Welcome is for all new international undergraduate and graduate students. You can register for International Student Welcome at the same time you register for your main orientation program.You are encouraged to register as early as possible. 
International students should participate in both International Student Welcome and January Orientation.
UVic Orientation and the International Centre for Students are committed to making our events as accessible and barrier-free as possible. If you have any accessibility needs in order to participate in our events, please provide details when you register and/or contact us at orientation@uvic.ca.
---
Pre-arrival information sessions
To help you prepare for your arrival in Canada, the International Centre for Students has recorded several information session to share important information about settlement, health insurance and immigration. These recorded pre-arrival information session are intended for UVic international students who will begin their program at UVic in the spring (January – April) 2022 term. The sessions are not intended for Gustavson Business of School or Continuing Studies students.
Settlement information session
Moving to Victoria to attend UVic? This session will introduce you to housing options on- and off-campus, the city of Victoria, UVic's self-isolation program, things to be aware of to stay safe, and what to do after you arrive. Check the video description for time stamps. 
View slides for the settlement session (653 KB)
Health insurance information session
Health insurance is important and a requirement for international students. This session will introduce you to the mandatory guard.me insurance, the British Columbia medical services plan (BC MSP) and the extended health and dental care coverage offered to UVic students. Check the video description for time stamps.
View slides for the health insurance session (492 KB)
Immigration information session
In this session, we'll discuss new student information, Canadian immigration documents, academic enrolment status and immigration implications, COVID-19 special measures, and COVID-19 vaccination and quarantine information. Check the video description for time stamps.
---
Other programs supporting international students
Mentorship Program
The Mentorship Program offers friendship and guidance for international students as they navigate their social and academic transition to UVic and Canada.
Conversation Partners
The Conversation Partners Program provides students with opportunities to practice and build confidence in their conversational English skills.
Global Community Events
The Global Community hosts a number of events and activities that celebrate diversity and foster intercultural connections! They are open for all students.