Textiles in focus at Legacy's interrupted exhibition
- Tara Sharpe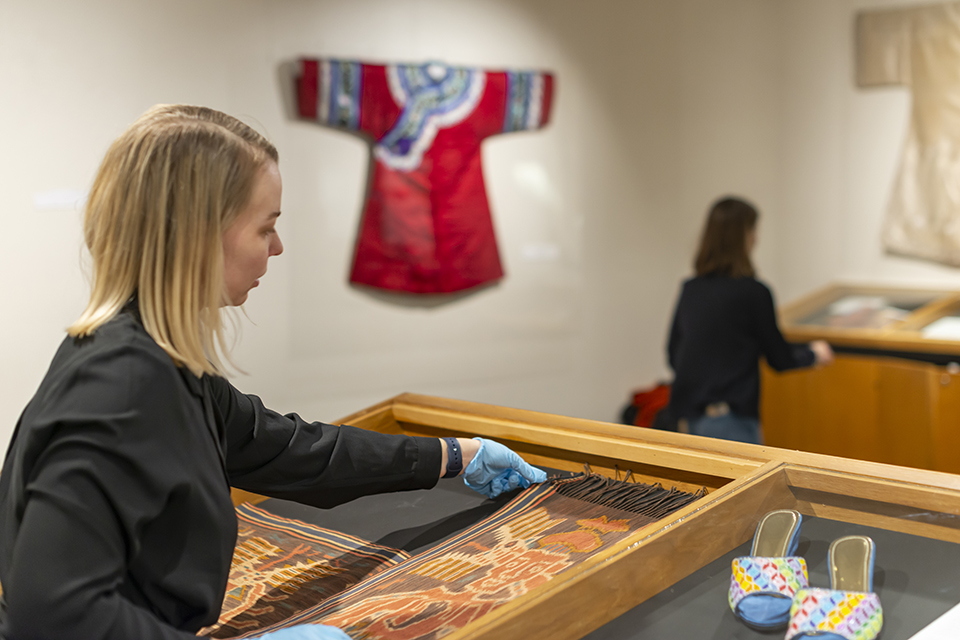 Museums, galleries and other cultural institutions around the world are yet again facing the threat of lockdown with the second wave of COVID-19, while others continue to contend with low visitor numbers due to mandated restrictions. The dedicated public spaces of UVic Legacy Art Galleries were no different, falling nearly silent in the first weeks of the global pandemic.
On March 18, the doors to Legacy Downtown (at 630 Yates St.) and Legacy Maltwood (in the lower level of the Mearns Centre for Learning – McPherson Library) were closed to the public—including on an exhibition of textiles, an art form that has frequently been marginalized and underappreciated.
Weaving, embroidering and stitching—a redefined history
The textile exhibition, Woven, Embroidered and Stitched in Tradition: Women's Textile Labour in 20th Century Asia, opened Feb. 8 at Legacy Maltwood and was intended to run through the first week of May.
It showcased a dazzling array of heritage textiles from the university's art collection. The luxury textiles and garments were produced by women throughout Asia between the late 19th century and present day, and were augmented with more modern adaptations on loan from private collections. UVic's Special Collections collaborated on this exhibition, contributing art books, textile samples and glass slides (which were sold to tourists before photographs and postcards were readily available).
Many of the works were produced for the tourist market (both global and local), which raises broader questions of authenticity, tradition, cultural appropriation and gendered textile labour.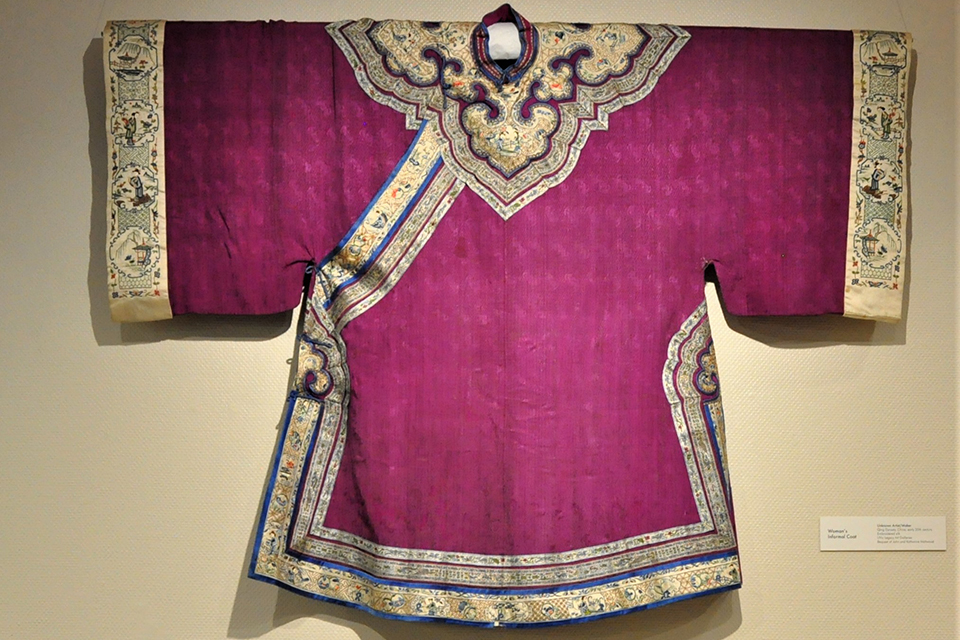 Exquisitely crafted in China, Japan, Indonesia, Malaysia, India and Bangladesh, these pieces shed light on women's roles as makers, consumers and connoisseurs during the last 150 years—a time involving monumental global shifts in production, accessibility and commodification of garments while, in the process, also devaluing women's skilled textile labour.
In both Asian and western culture of the last century, textile arts such as weaving, spinning, needle work and embroidery were traditionally valued less than so-called fine art such as painting, drawing and sculpture.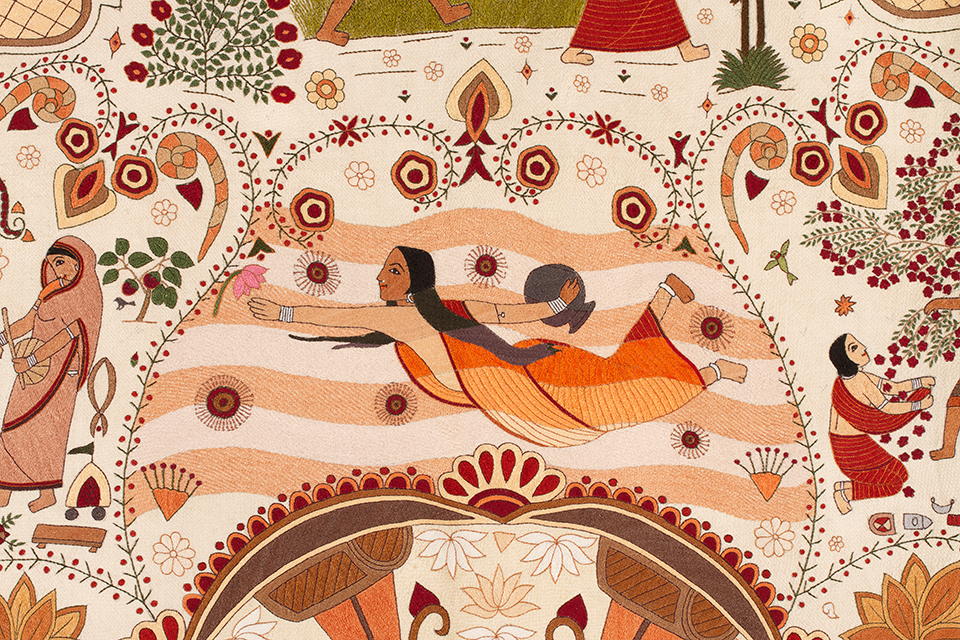 Graduate student Claire Aitken (art history and visual studies) curated the exhibition under the supervision of Melia Belli Bose (also of art history and visual studies), with the assistance of Yorika Terada, a student researcher in the same department; Hitomi Harama, Japanese culture and kimono consultant; and Caroline Riedel, curator of collections for UVic Legacy Art Galleries.
"I was really excited about this exhibition, not just because the textiles are so beautiful but because of the public engagement that we were looking forward to," says Riedel.
At the end of March, the exhibition was scheduled to be part of a three-day symposium, "Gendered Threads of Globalization," which, due to COVID, didn't happen.
We were going to host exhibition tours and an interactive performance with Bangladeshi-American artist Monican Jahan Bose, where participants would paint messages on a sari to gift to women in Bangladesh. It was a really unique project with many collaborators.
—Caroline Riedel, curator of collections for UVic Legacy Art Galleries
The textiles in the exhibition were so fragile, they required special care during installation and also when the exhibition was taken down. It is unlikely the same pieces will be shown together again by Legacy in the near future. The photos in this article offer a glimpse of what was freely available for public viewing earlier this year for one month.
Since then, Legacy staff have been hard at work devising ways to continue to provide the public and university community with safe, welcoming and inspiring opportunities to engage their artistic curiosity and learn more about Canadian, Indigenous and international historic and contemporary art.
A welcoming and safe place to experience art
Two exhibitions, TUKTUUYAQTUUQ (Caribou Crossing) and To Fish as Formerly: A Story of Straits Salish Resurgence, opened on June 17 and run through Nov. 14 and 21 respectively, at Legacy Downtown in its prime location in this city's urban core.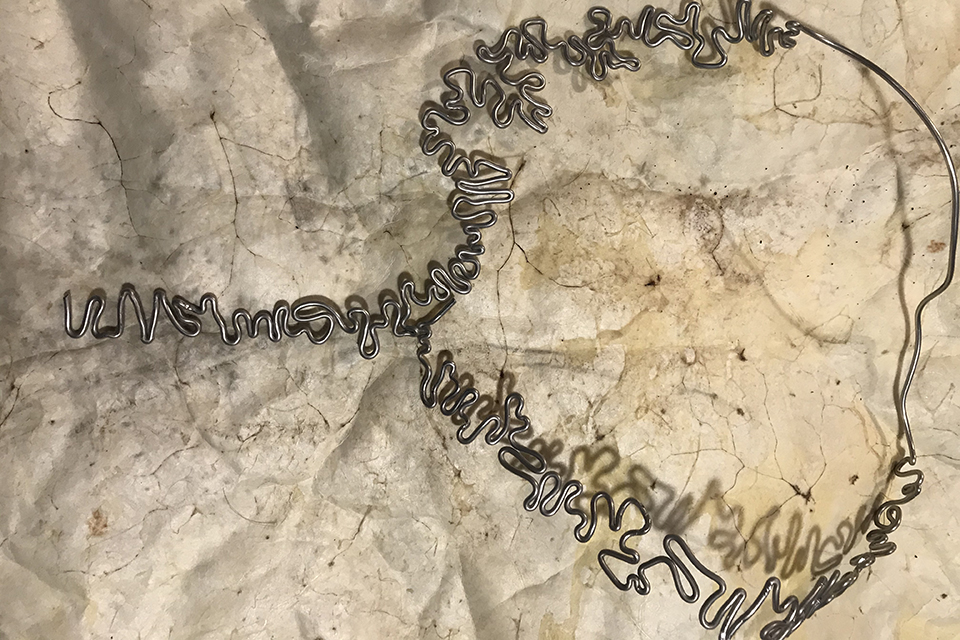 In TUKTUUYAQTUUQ, Maureen Gruben (BFA '12, visual arts) works with multiple facets of the tuktu/caribou: the translucent heart sac or the intricate patterning of bone seams on skulls that are reminiscent of waterways curving through the land. Tuktuuyaqtuuq is the Inuvialuktun name of Gruben's home on the Arctic coast (known in English as "Tuktoyaktuk") and it means "looks like a caribou." The tuktu are integral to Inuvialuit life; they provide food, clothes, tools and stories. In her careful attention to life-sustaining physical elements, Gruben is also tracing the caribou's vast immaterial presence in her culture.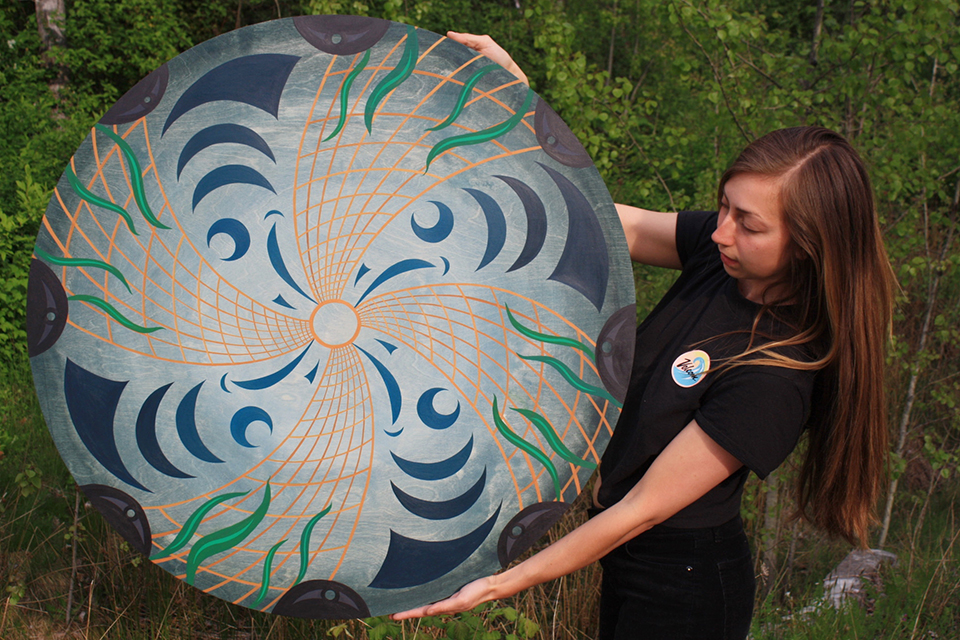 To Fish as Formerly tells the story of the SX̱OLE (the Reef Net Fishery) through contemporary art, traditional knowledge and historical documentation. The exhibition focuses on the efforts of generations of W̱SÁNEĆ people who are revitalizing the belief systems, spirituality, knowledge and practices inherent to the SX̱OLE. It was curated by UVic child and youth care professor XEMŦOLTW̱ Nicholas Claxton and history graduate student Katie Hughes.
Since reopening in June, we are finding visitors entirely pleased to have a welcoming and safe place to experience art.
—Mary Jo Hughes, director of UVic Legacy Art Galleries
Artist talks usually occur in tandem with the launch of new exhibitions, but neither they nor Legacy's usual in-person programs are possible in this time of COVID.
Instead, the staff at Legacy along with many artistic collaborators have developed online opportunities for people to engage with the art and artists:
An upcoming exhibition, Life Stories, opens Dec. 2 at Legacy Downtown and focuses on the stages of life and how art speaks to those phases. The gallery's maximum capacity is 20 visitors.
See the links below for more info on this new exhibition, as well as on the gallery's current operating plan.
Nurturing the next generation of artists
Fall 2020 also marks the 10-year anniversary of the opening of First Peoples House at UVic, including with a new exhibition.
Organized by Legacy's Young Canada Works intern Melissa Granley (Métis) along with Coast Salish artist lessLIE, For Time Immemorial presents works by established and emerging artists.
This continuum of Coast Salish art and artists is a visual means for acknowledging Salish territory…such a geographical acknowledgement of traditional territories is vital in the 21st century.
—Coast Salish artist lessLIE in the introductory statement to the new exhibition, pointing to the power of art in acknowledging territory
"I felt a certain level of trepidation that my voice as a Métis and settler person would be inadequate, inappropriate or too loud, and so I am extremely thankful and humbled to have the words of artist lessLIE to take precedence over mine," says Granley.
Exhibitions at First Peoples House typically draw from UVic's large Indigenous serigraph collection, but Granley advocated to also invite four emerging artists: Margaret August, Jordanna George, Sarah Jim and Sage Paul. George and Jim received UVic fine arts degrees in 2019.
With the timely financial support of the Salish Weave Collection of George and Christiane Smyth, and the Museum Assistance Program, Legacy was able to purchase the pieces of all of these Indigenous artists, as well as one by Gruben for the university's permanent collection.
Going forward, Legacy will continue to address gaps in gender and cultural representation in its whole collection.
Legacy has three main sites for rotating exhibitions: Legacy Downtown, Legacy Maltwood and in First Peoples House. And UVic has more art on view in public spaces than any other Canadian university. At any one time, the university has approximately 2,000 works of art installed from more than 19,000 pieces in the overall art collection.
The collection has been built over many decades through donations of artwork and special purchases through the support of our donors and the Canada Council for the Arts.
Learn more
---
Doing the Wright thing garners a Wright award
The Wright Spirit Awards were established by the Frank Lloyd Wright Building Conservancy in 1991 to honour individuals and organizations who demonstrate an extraordinary commitment to preserving Wright's legacy.
This year, UVic Legacy Art Galleries is receiving the organization's special honours award for the return of seven pieces of art glass in its collection to their original location in Martin House.
The Wright Spirit Awards will be presented Nov. 14 during a virtual conference. The awards ceremony will stream live online beginning at 7 p.m. CT.
Read The Ring article of July 2017, "Legacy Art Galleries does the Wright thing for artistic stewardship," for more info on the return of these exquisite pieces of art glass.
Photos
In this story
Keywords: arts, COVID, community, gender, Indigenous, alumni, student life
People: Legacy Art Galleries, Claire Aitken, Melia Belli Bose, Yorika Terada, Hitomi Harama, Caroline Riedel, Maureen Gruben, Katie Hughes, Mary Jo Hughes, lessLIE
Publication: The Ring