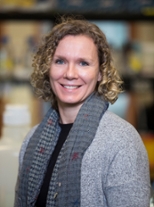 Position
Associate Professor
Division of Medical Sciences
Credentials
BSc (Guelph), PhD (Calgary)
Contact
Office: Medical Sciences Building, room 224
Donations support our students and faculty in their mission to produce internationally recognized advances in neuroscience knowledge.
Support Dr. Leigh Anne Swayne's research.
---
Research in the Swayne lab has made important contributions to understanding the cell biology of proteins that form channels (regulated doorways for ion and small molecules in cellular membranes). These contributions include the regulation of channel localization and function by intrinsic molecular elements, and protein-protein interactions, and the roles of channels and channel-regulating proteins in the development of neurons and cardiomyocytes. The Swayne lab's current areas of focus are as follows:
The Swayne lab's main CIHR-funded research project builds on the lab's on-going work elucidating the role(s) of the Pannexin 1 (Panx1) channel protein in developmental and injury-triggered neuronal plasticity. The lab's work in this area is currently focused on the role of Panx1 in regulating the formation of neuronal connections during early postnatal development. This work has important implications for neuropsychiatric disorders associated with the abnormal formation of neuronal connections.
In related projects funded by NSERC, the Swayne lab is unraveling the molecular mechanism regulating the localization of channel proteins in cells, including neurons.
In collaboration with Dr. Laura Arbour (IMP, UBC) the Swayne lab is investigating the cell biological underpinnings of clinically relevant ion channel mutations affecting First Nations patients affected by a spectrum of cardiac disease as well as seizure. The Arbour and Swayne labs have held two CIHR bridge grants for this work.
The Swayne lab is also collaborating with Dr. Caroline Cameron (Biochemistry & Microbiology), providing expertise in the study of protein-protein interactions and receptor biology to elucidate the molecular mechanisms underlying the invasion of Treponema pallidum, the bacterium responsible for syphilis, across the blood-brain barrier.
   
Recent Swayne Lab Publications
(2020)
(see PubMed for all articles and links)
Pannexin 1 regulates dendritic protrusion dynamics in immature cortical neurons
Sanchez-Arias JC, Candlish RC, van der Slagt E, Swayne LA
eNeuro 31 July 2020, ENEURO.0079-20.2020;
DOI: https://doi.org/10.1523/ENEURO.0079-20.2020
PANX1 in inflammation heats up: New mechanistic insights with implications for injury and infection.
Sanchez Arias JC, Wicki-Stordeur LE, Candlish RC, van der Slagt E, Paci I, Rao PPN, MacVicar BA, Swayne LA.
Cell Calcium. 2020 Jul 13;90:102253. doi: 10.1016/j.ceca.2020.102253. Online ahead of print.
PMID: 32688074
Consideration of Pannexin 1 channels in COVID-19 pathology and treatment.
Swayne LA, Johnstone SR, Ng CS, Sanchez-Arias JC, Good ME, Penuela S, Lohman AW, Wolpe AG, Laubach VE, Koval M, Isakson BE.
Am J Physiol Lung Cell Mol Physiol. 2020 Jul 1;319(1):L121-L125.
doi: 10.1152/ajplung.00146.2020.
PMID: 32519892
Identification of the Neuroinvasive Pathogen Host Target, LamR, as an Endothelial Receptor for the Treponema pallidum Adhesin Tp0751.
Lithgow KV, Church B, Gomez A, Tsao E, Houston S, Swayne LA, Cameron CE.
mSphere. 2020 Apr 1;5(2):e00195-20.
doi: 10.1128/mSphere.00195-20.
PMID: 32238570
Ankyrin-B p.S646F undergoes increased proteasome degradation and reduces cell viability in the H9c2 rat ventricular cardiomyoblast cell line.
Chen L, Choi CSW, Sanchez-Arias JC, Arbour LT, Swayne LA.
Biochem Cell Biol. 2020 Apr;98(2):299-306.
doi: 10.1139/bcb-2019-0082.
PMID: 31965814 Free article.
 
Swayne Lab Current Members
Olga Shevtsova - Post Doctoral Fellow
Simona Frederiksen - Post Doctoral Fellow
Rebecca Candlish - Research Assistant
Juan Sanchez-Arias - PhD Candidate
Penelope Young - MSc Candidate 
Undergraduates

Sarah Ebert
Nicole York
Emma Van der Slagt
Catherine Choi, MSc
Anna Epp, MSc
Lena Chen, MSc
Xiaoxue Xu, PhD, Post Doctoral Fellow
Leigh Wicki-Stordeur, PhD Neuroscience (2011-2016)
Ross Prager (Honours student 2013-2014, volunteer, NSERC USRA co-op term)
Scott Bell (Honours student 2013-2014)
Jeremy Christensen (Honours student 2013-2014)
Adrian Dzugalo (co-op)
Rose Swansburg (co-op)
Jocelyne Suits (part time lab tech)
Gaurav Sekhon - BSc Microbiology
Emma Jones (co-op)
Emma Boyce (work-study)
Ester (Tesi) Carmona-Wagner (co-op)
Michelle Kim (NSERC USRA)
Adrianna Gunton (lab tech)
Granting
Agency
Subject
Total $

Year
PI  (C0-I)


BCKDF

Super-resolution live and fixed cell imaging platform

220,000

2018

Swayne

CFI-JELF

Super-resolution live and fixed cell imaging platform

220,000

2018

Swayne

CIHR

Understanding the population, individual, and cellular effects of a novel ANK2 mutation associated with Long QT syndrome and structural heart disease in a First Nations Community of Northern British Columbia

100,000 (10K for my lab total, one time)

2017

Arbour
(Swayne)

NSERC

Molecular determinants of ion channel trafficking in neural cells

170,000

2017-22

Swayne

CFI-IOF

Maintenance for Live and fixed cell neuro-imaging facility

32,800

2016-19

Swayne

NSERC

Novel regulators of neural endosomes

33,000

2016-17

Swayne

BC Proteomics Network

Graduate Training Program - Dissemination and pathogenesis of the

syphilis causing bacteria, Treponema pallidum

2,000

2016-17

Swayne

Scottish Rite Charitable Foundation of Canada

Pannexin 1: role in neurodevelopmental disorders?

35,000

2015-18

Swayne

CIHR

Understanding a novel molecular mechanism controlling structural development of neurons

131,760

2015-20

Swayne

CIHR

Long QT Syndrome in Northern British Columbia: Predicting Risk for sudden death

100,000 (10K for my lab total, one time)

2015-16

Arbour

MSFHR

Ion channels: Molecular determinants of health and disease in the head and heart

90,000 (27K operating)

2014-19

Swayne

UVic DMS

Bridge funds: Cell biology of ion channel mutations in BC First Nations communities

35,000 (total, one time)

2014-16

Swayne

BC Proteomics Network

Proteomic assessment of neuroplasticity mechanisms after stroke

14,500 (total, one time)

2014-15

Swayne

Heart and Stroke Foundation Canadian Partnership for Stroke Recovery

Preclinical testing of probenecid for stroke recovery

49,000

2013-15

Swayne

UVic DMS

Bridge funds: Cell biology of ion channel mutations in BC First Nations communities

10,000 (total, one time)

2013-14

Arbour

NSERC (Engage)

Creation and validation of pannexin 1 and pannexin 2 antibodies

25,000

2013

Swayne

NSERC (Discovery Grant)

Pannexin signaling in neural progenitor cells

36,000

2011-16

Swayne

NSERC (Discovery Grant – Early Career Researcher supplement)

Pannexin signaling in neural progenitor cells

20,000

2012-16

Swayne

Willard and Elva Dawson Fund (Victoria Foundation)

Support for trainees in biomedical research

6,000

2012

Swayne

CFI - LOF

Live and fixed cell neuro-imaging facility

150,000

2012-15

Swayne

BCKDF

Live and fixed cell neuro-imaging facility

150,000

2012-15

Swayne

UVic DMS

Laboratory start-up funds

350,000

2011-13

Swayne
 Undergraduate Students
If you are interested in volunteering/working in Swayne Lab, please submit the following documents 
CV with references
Transcript
Paragraph explaining your interest in the lab
Congratulations to PhD student Leigh Wicki-Stordeur for winning first prize, and to PhD student Andrew Boyce for honourable mention for trainee talks at the International Gap Junction Conference in Valparaiso Chile (March 28th-April 2nd 2015)!
Two students from Dr. Leigh Ann Swayne's lab received awards during Honours Fest held on February 28, 2014. Scott Bell received Top Presenter award for his poster entitled "Effect of Probenecid on the Neural Precursor Response to Stroke"and a one year membership in a professional membership of his choice.
Ross Prager received Best overall Honours Poster for all faculties with his poster entitled "Characterization of a novel Pannexin 1 channel internalization stimulus" and the "Boehm Family Award for Excellence in Science" plus $2000.
Scott (top) is pictured below with Dean Lipson from the Faculty of Science. Ross (bottom) is pictured with Dean Lipson and Associate Dean Kathryn Gillis from Faculty of Science. Congratulations to both of you for a job well done!
Dr. Leigh Anne Swayne has been awarded $98,000 for her proposal entitled "Preclinical Testing of Probencid for Stroke Recovery Treatment". Congratulations on your award and we look forward to seeing exciting results from your catalyst grant!
Despite the grey picture of massive cell death often accompanying stroke, the brain has a remarkable capacity for "recovery". Currently, we are largely unable to optimize this process of innate recovery and repair due in part to knowledge gaps in our understanding of the underlying cellular and molecular processes that modulate plasticity during stroke recovery.
There is an opportunity for you to become involved in this exciting area of research through a new graduate student position opening in the Swayne lab. Our relatively new lab has an excellent track record for publications and student scholarships. It is a stellar training environment both in terms of scientific training and career development and we are looking to recruit the best and brightest to join our research team.
If you are interested in applying, please send a CV and unofficial transcripts to Dr. Leigh Anne Swayne, lswayne@uvic.ca.
Dr. Leigh Anne Swayne is creator and co-editor of a research topic published in Frontiers of Cellular Neuroscience. Read more.
Dr. Swayne and two of her graduate students, Leigh Wicki-Stordeur and Andrew Boyce recently had a paper published entitled Analysis of a pannexin 2-pannexin 1 chimeric protein supports divergent roles for pannexin C-termini in cellular localiztion. Read the abstract.
For her graduate studies in the Swayne Lab, Leigh Wicki-Stordeur has been selected to receive the following two awards from the Faculty of Graduate Studies Donar Awards. Leigh was awarded the Howard E. Petch Research Scholarship ($7500) and the Edythe Hembroff-Schleicher Scholarship ($9000). Leigh also awarded an NSERC PGSM earlier this year.
Congratulations Leigh and best wishes for continued success in your graduate program.