TBI research focuses on finding solutions that work for patients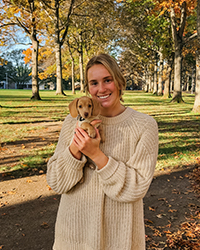 Though traumatic brain injury (TBI) is the leading cause of death and disability in Canadians under the age of 40, there are limited options for those seeking cognitive rehabilitation after injury.
Taylor Snowden-Richardson (Christie Lab, Division of Medical Sciences, Neuroscience Graduate Program) hopes to address this issue with new patient-oriented research funded by the 2020 BC SUPPORT Unit Vancouver Island Centre Graduate Fellowship. She received the $15,000 award from the BC SUPPORT Unit and Island Health late last year.
"We will be partnering with the Victoria Brain Injury Society (VBIS) to determine if the cognitive training tool NeuroTracker can be used to support and improve cognition and daily life functions in adults with brain injuries," says Taylor. "This is a unique study in that individuals with brain injuries will not only be research participants, but also serve as patient-partners to help design the full study."
NeuroTracker is a virtual tool that has participants visually track multiple moving 3D objects. These training sessions simultaneously engage all lobes of the brain, which strengthens the connections between various parts of the brain and can improve attention, memory, and other executive brain functions. While previous research has shown NeuroTracker's promise as a cognitive training tool for healthy older adults, Taylor wants to find out if it could have similar benefits for people with TBI.
To ensure her research focuses on meeting the needs and wants of those directly affected by brain injury, she will collaborate with patients and their caretakers alongside VBIS professionals. "Health-related research should take the needs, beliefs and opinions of those directly affected into consideration," she says.
If the study leads to positive results, the Christie Lab will work with VBIS to implement NeuroTracker training as part of the society's support program. Taylor will also work with study participants to identify the best ways to distribute her findings to other patients with TBI. This may include virtual town-hall-style meetings, PowerPoint presentations, brochures, and videos.
Given the potential benefits of this intervention, participants in the control group will have full access to NeuroTracker training following the study's completion.