Interview with Poet, Novelist and Essayist Theresa Kishkan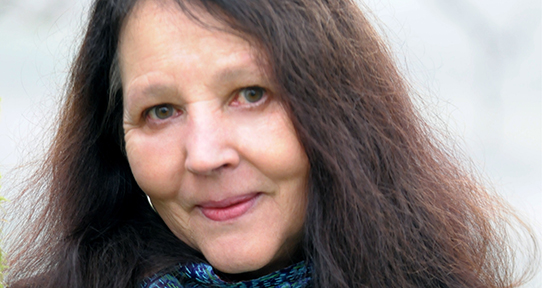 by Heather Dean, Associate Director, Special Collections

It is with great pleasure that we announce the inclusion of the Theresa Kishkan fonds in Special Collections.  Kishkan is a poet, novelist, and essayist, whose most recent work, a novella, The Weight of the Heart, was published by Palimpsest Press this past spring. On her website, Kishkan describes herself as a "sloppy quilter" and growing vegetables and flowers "happily, if carelessly." But when it comes to her writing, these descriptions do not apply. Her use of words is precise, intentional, and meditative. Her writing has been awarded the bpNichol Chapbook Prize and the Edna Staebler Personal Essay Prize (awarded by The New Quarterly) and nominated for several awards, including the Pushcart Prize, the Relit Award, the Ethel Wilson Fiction Prize, and the Hubert Evans Prize for Non-Fiction. 
In many ways, we are welcoming Kishkan back to Special Collections, not only because she worked there while a student at UVic, but because small snippets of her writing can already be found in the collections. Her letters to other writers are sprinkled throughout the archives, and her 1979 collaboration with Doug Beardsley, Premonitions and Gifts, is also in the Douglas Beardsley collection. The Theresa Kishkan fonds, however, provide researchers with so much more, including a wonderful array of her writing projects from as recent as 2017 (marked by the publication of Euclid's Orchid). Through the archives, you can see Kishkan's writing taking shape as pieces, heavily informed by her ongoing research, progress through various drafts.  Correspondence related to her writing projects and reviews of her work also provide a picture of the shift from writing to publishing. 
This spring, Kishkan kindly responded to a series of questions, about her archives, and about writing. 
***
You worked as a student in Special Collections at UVic. What impression did that have?
I was taking English, classics, and writing courses and I was immersed in literature in those years – the mid-1970s. I was a voracious reader and I was finding my voice as a writer. What I discovered in Special Collections was a kind of historicity of literary texts. Boxes of materials would come from writers whose archives were held by Special Collections. W.S. Graham and Robert Graves were the ones I was particularly interested in. I remember peering into those boxes in awe. Worksheets, drafts, correspondence about writing and life: these were so interesting to me and they were also revelatory, evidence of the process of making literature.
What material do you accumulate as you work on a writing project?
I began my writing life before the internet so I was, and am still, very much a gatherer of materials. When I am writing, I am always researching and verifying. I like to have maps at hand, field guides, old textbooks, grammars, photographs, and anything that might speak to me of the landscape I'm writing about, the time period, the domestic details, and so on. My historian son calls me a magpie but I suspect even magpies have a method to their gathering and my own materials have a coherence to me that isn't perhaps as evident to others. I remember reading Annie Dillard's "How I Wrote the Moth Essay—And Why" and being intrigued by her description of her journals, all indexed. She wrote, "It's terrific having all these materials handy. It saves and makes available all those years of reading. Otherwise, I'd forget everything, and life wouldn't accumulate, but merely pass." I've only ever been a sporadic keeper of journals, but in a way I consider the files I've kept for each book I've written in much the same spirit. I see the long accumulation of materials as an oblique but intact set of blueprints.
What was the experience like, having your archives shift from being in your home to being at UVic?
I'm so glad they've found another home where care will be taken to keep them intact. I have to say my small study was feeling a little crowded, both physically and metaphysically. I'd look at the boxes and stacks of papers (it's been years since there was room in my tall filing cabinet!) and I'd wonder if I was finished them them and if I was, then why wouldn't they leave and find their way in the larger world? Like the last chestnut-backed chickadee in the nesting box we once watched, all the other nestlings having fledged, waiting nearby in a mountain ash and calling to their reluctant sibling to fly, fly, because the parents wanted to create another brood while there was still time.
What can be found in your archives?
I kept almost everything I used or consulted while writing my books. I kept relevant correspondence from publishers, other writers, readers, and reviews, materials related to grant applications (some successful, others not), travel materials for research, maps, photographs, and other ephemera that somehow related to my writing life.
Who is your ideal reader of your archives?
I'd love to think that an aspiring writer might look at some of my material and realize that writing a book is not a particularly coherent process, or at least it doesn't have to be. You begin one way, maybe even with a scribbled plan (I never rise to an outline, alas), but then you read, you think, you explore, and find your route changing as the seasons change.
A literary scholar might discover a series of curious matrices embedded in my work. Or that Ursula Le Guin's carrier bag theory of fiction, in which the spear is replaced by the receptacle as our earliest human tool, is a good way to approach my writing as a single entity. Someone who isn't deterred by untidiness might discover a pattern in the abundance of notes, scribbles, phrases searching for their own context.
I remember how thrilled I was to see a first line, a first draft, in the Graves material. There was an issue of the Malahat Review devoted to Robert Graves in the mid-1970s. I believe it was Bill Thomas who presented drafts of "The Bracelet," as a variorum, showing how lines were added, deleted, and how the poem wasn't typed until well along in its development. A subsequent issue of the Malahat Review, #45, with Margaret Peterson's beautiful cover, included worksheets of Susan Musgrave's poem, "Mourning Song." How inspiring to see how a mind works, how writing is, yes, physical work, like building a structure, a central scaffolding that holds while elements are adjusted, revised, or eliminated altogether. I know I included some drafts of poems in my archives and maybe someone will take the same delight in tracing the progress of my thinking and craft.
What might you include in your archives in the future?
I have folders of personal correspondence with other writers and artists as well as materials collected for the work I'm doing right now. I have a drawer of hard-drives, old floppy discs and CDs, and journals from various points when I did manage to keep a daybook, mostly while travelling. I have an entire sheaf of correspondence from the artist Jack Wilkinson (one of the Limners), and notebooks he made for me as well many informal sketches of me. Art historians might find this hoard interesting, particularly the lengthy autobiographical document he wrote, wanting someone to have what he felt was a clear delineation of his life and art training and personal aesthetic.
Do you have advice for other writers?
As a young aspiring poet, I used to sit on the library floor in the PR or PS section, my back against one set of shelves; I'd choose books at random and simply read. I'd read everything I could. Then I'd move to the GA, GN, and GR stacks. The NK and NX stacks. I learned as much reading my way through the library holdings as I ever learned in a class.
I remember feeling such urgency, that life couldn't possibly be long enough to read what I wanted to read and I still feel that. I think of Gary Snyder's instructive poem, "What You Should Know to be a Poet," with its compelling opening lines:
all you can about animals as persons.
the names of trees and flowers and weeds.
names of stars, and the movements of the planets
                          and the moon.

your own six senses, with a watchful and elegant mind.

at least one kind of traditional magic:
divination, astrology, the book of changes, the tarot;

dreams.
the illusory demons and illusory shining gods...
I didn't continue to write poetry after a certain point in my life, but I'd still argue that this is a good skill-set for any writer. Learning to be attentive, both to language and to history, is important. Reading as widely as possible, without a plan, takes you to places you never dreamed were there. Or maybe you did dream them so finding their actual guidebooks is all the more wonderful. Snyder's advice to learn the names is important, especially if you also venture into the world with that knowledge and that interest in how the intricate systems of the natural world have much to teach us in turn.
My ideal model for writing and for a rich and productive life in general is the passionate amateur. When I was writing my novel A Man in a Distant Field, I read many books by people who were not trained to be experts, nor did they aspire to that state. I think of the 19th century women botanical illustrators, who were often self-taught, not just in art but in Latin, taxonomy, and music, or Robert Lloyd Praeger, trained as an engineer but one of Ireland's finest naturalists. Some of these passionate amateurs were names I encountered as I read in the McPherson Library, on quiet evenings, not knowing then I was undertaking a self-education of my own. My university classes taught me how to think, but my reading taught me how to be a writer, I think, and it's a route I'd highly recommend to others.
--Theresa Kishkan