Reflections from a library co-op student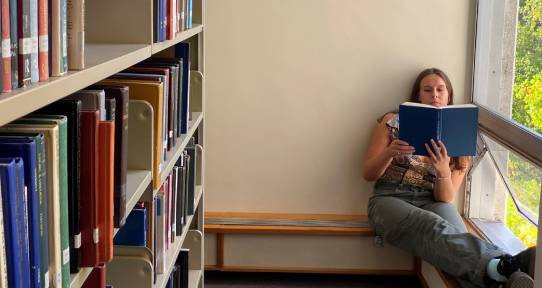 by: Nina Kovacik, Information Services Assistant (Young Canada Works)
Last semester I had the opportunity to work as an Information Services Assistant in the Mearns - McPherson Library at the University of Victoria. This exciting role allowed me to work behind the scenes in the day-to-day work of an academic library and with research librarians to improve the efficiency of new program roll-outs in fall 2022.
My responsibilities revolved around promotion and assessment, and I took the lead in these areas for many different events and projects. I was able to offer some new insight to the librarians regarding research help and improve the overall system by offering a student perspective. In addition to promotion and assessment, I served as a helping hand to the library staff, assisting with photography and event support. There were never two days that looked the same in this role, and I am grateful for all my learning experiences and new skills that I developed.
I love the culture of the library. Everyone who I worked with (including librarians and the Ask Us staff) were unbelievably friendly and encouraging. I learned that being a professional in an academic environment is much less formal and strict than I thought. There was one day when my co-workers dressed up as aliens and dinosaurs for Halloween and I couldn't stop laughing.
Furthermore, I felt that academic professionals really value the knowledge and experience of young, emerging professionals because it helps them to stay connected to students and understand rapidly changing cultural trends. My co-op term was a unique experience, and through my engagement with these colleagues, I gained further knowledge about subjects I am interested in, including ancient mythology, English literature, and early American crime, among others.
I also was able to spend a lot of time with the Geography department when I documented the Living With Climate Change series. I learned so much about the climate crisis from professors, students, community members - even middle school students! If I were to describe the work culture of the academic library in one word, I would say that it's "inspirational." I left this experience feeling inspired to learn, inspired to be my best self, and inspired to be an active community member. Working at the library this past semester has been the biggest influence on my learning and development, and I realized that my external environment has a huge impact on my motivation, curiosity, and creativity.
I found myself excited to come to work every day because I was constantly learning and having fun. I never had a bad day at work where I felt frustrated or sad because I had so much support from my coworkers. Every day was dynamic, different, and engaging, and I enjoyed every aspect of this job. Special thanks to Karen, Michael, Lisa, and everyone else who I had the pleasure of working with this past semester!