Living with Climate Change, a student-led Learning Series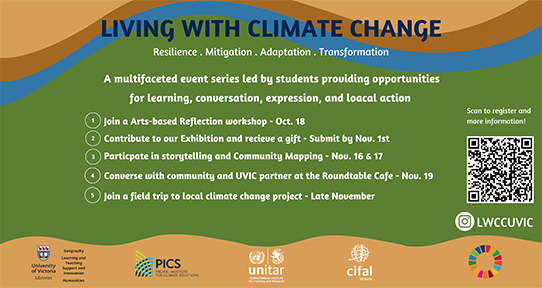 This fall, UVic's community will have the opportunity to participate in an innovative student-led "Living with Climate Change" project culminating during the United Nations Climate Change Conference COP 27. The intention of this project is to help address climate anxiety and inspire constructive local action.
Initiated by Professor Thom Heyd, led by four enthusiastic students, and supported by UVic Libraries in partnership with UVic's branch of the United Nations training programme CIFAL, the Community Engaged Learning (CEL) Office, the Pacific Climate Impacts Consortium, and the Pacific Institute for Climate Solutions, the series is endorsed by Humanities, Social Sciences and the Centre for Global Studies.
The project will be a feature component in at least three courses being taught this fall where students are being invited to participate in the events as part of their academic work. It will also represent a publication opportunity for participants with CIFAL and UNITAR.
The organizing themes are taken from the four pillars of effective climate action: mitigation, adaptation, community resilience, and societal transformation.
The series comprises five parts:
an arts-based Reflective Workshop October 18, leading to
an Exhibition of climate change-related art and scholarly projects in November, 
two course-based opportunities for students in storytelling and community mapping,
an action-oriented Roundtable Saturday Nov 19 engaging students, community members, and UVic experts,
all of which is enriched by Field Trips to local climate change projects in later November.
Students from all programs are invited to take part, and can learn more at these links: