The Career of Ken Cooley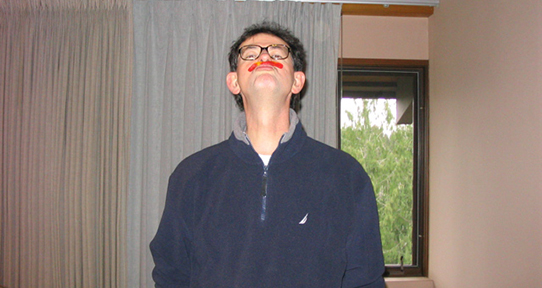 IN CONVERSATION WITH KEN COOLEY ON HIS CAREER AND RETIREMENT
Interview conducted and edited by: Zehra Abrar, work study student
What were your beginnings in librarianship?
In 1972 I worked on a recreation project in my home town of Birtle, Manitoba. One of my responsibilities was to keep the high school library open a number of evenings each week.  I didn't get a lot of customers but I did discover how much I liked the library.  Later, at the University of Manitoba, I had several stints as a library student assistant, most significantly for me in the Government Publications section, both at the U of M and UBC, where I later completed my Master's in Library Science.
What year did you start at UVic?
I began work at UVic Libraries on April 1, 1991. This was just as the Libraries were implementing NOTIS, our first automated library system.
What was your title when you first started?
I began work at UVic Libraries as the Humanities Reference and Collection Development Librarian. I reported to Don White in the Reference Unit and Donna Signori in Collections.
What roles did you have in the library over the years?
From my initial appointment in Reference and Collections, I became Head of Acquisitions, reporting to Donna Signori. Later I became the Head of Library IT and Technical Services, then Associate University Librarian for Research Resources, which encompassed collection management, acquisitions, technical services, and reference, and finally, after stepping down to take a study leave in 2017, I spent the last two years as Special Projects Librarian, reporting to Jonathan Bengtson.
What has been the biggest change since you started at UVic Libraries?
There is no doubt that UVic Libraries, like the whole world, has been transformed by the advent of vast amounts of digitized information. This change has impacted every part of the library's operation.
Are there any approaches to administration that you think were particularly successful?
If you are not deeply interested in people and find you do your best work alone, then you should have nothing to do with administration of any aspect of a library. All the successful library administrators I've met during my career possessed these qualities. They aren't sufficient in themselves, but they are fundamental.
What are you most proud of in your career?
I would say that my ongoing involvement in creating collections for teaching, learning, and research at UVic has been the most challenging part of my career as a librarian. The enormous costs involved have always been a formidable obstacle, as has been the introduction of new formats and new purchasing models. However, collection development work always attracted me to the intellectual life of the university in a way few other assignments did.
If you did not become a librarian, what other career choice would you have made?
Oddly enough for a very practical farmer and school teacher, both my father and my mother thought I should enroll in Fine Arts. I might have had a wilder life if I'd followed their advice!
What advice would you give to your colleagues?
I apologize for this smug saying but here goes: "Don't stop when you're tired. Stop when you're done."
"Don't stop when you're tired. Stop when you're done."
What motivated you to retire?
My former boss Marnie Swanson said that you just know when it's time to go.  That's pretty much what happened. I am still very interested in the library, but one reaches a point when you know you should just get out of the way.
If you could read anyone's mind, who would it be?
Funny, but as I think about this, I realize I've not spent a lot of time wondering about what others were thinking. I've mostly worried about finding out what they have actually been doing, which was not always very easy.
What books are on your bedside table?
I have two books on the go just now: A History of the World in 12 Maps by Jerry Brotton and Flights by Olga Tokarczuk. Like most of us, I'm pretty fascinated by maps, and the Tokarczuk book has a very interesting structure. I'm looking forward to my book club (composed almost entirely of retired librarians) discussion.
Finally, what are you doing in retirement?
I plan on learning to play the bass clarinet.