In conversation with Digital Scholarship Commons Manager Rich McCue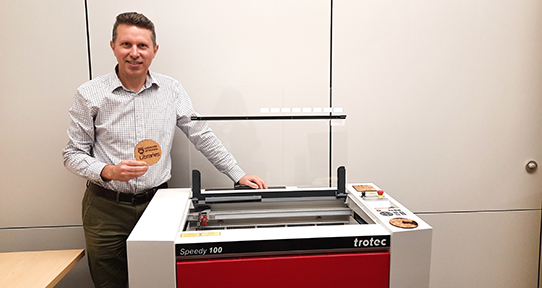 Q: What does your day-to-day role look like as the UVic Libraries Digital Scholarship Commons (DSC) Manager?
A: My typical day is a mix of teaching digital skills workshops in the DSC, developing new workshops, working with professors to customize a workshop to meet the needs of their class, and less frequently learning to use a new technology that we will be making available to the campus community (like laser cutting for example, which should be available for use in September 2022).
Q: You've recently joined The Carpentries. Congrats! Can you tell us a little about this organization and what is their mandate?
A: "Since 1998, Software Carpentry has been teaching researchers around the world the computing skills they need to get more done in less time and with less pain. All of their lesson materials are freely reusable under the Creative Commons - Attribution license." Their most popular workshops include:
Programming with Python
The Unix Shell
Version Control with Git
Plotting and Programming in Python
R for Reproducible Scientific Analysis
Q: The specific committee you've joined is the Software Carpentry Curriculum Advisory Committee which aims to provide high-level oversight for curriculum. What is your vision for change?
A: Currently the Software Carpentry Workshops are hands-on, but are meant to be led by the instructor so that everyone in the workshop moves through the materials at the same pace. I'd love to provide more detailed multimedia instructions in workshop activity handouts so that participants can move through the activities at their own pace, and then ask for assistance when they get stuck. Currently, some workshop participants are getting bored because the pace of the instruction is too slow, while others feel overwhelmed because they can't keep up with the pace of instruction.
Q: When the library first launched the DSC, UVic was the only university in BC to offer 3D printing to all students on its campus. Can you tell us why access to this high-tech equipment is important and what is its value?
A: 3D printers are a wonderful tool to create prototype models for disciplines as diverse as engineering, archeology, and the humanities. This often allows students and researchers to create physical models of things that in the past they could only talk about, or would have to use a significant amount of time and money to create. The very first student print job in the DSC was a model of a chemical molecule that was key to a graduate student's dissertation, and she wanted to put it on the table for her committee to look at while she defended her thesis.
Q: So, if I want, can I 3D print a four-foot Cheetos cracker?
A: Unfortunately the print areas on our current 3D printers are not large enough to print a 4-foot Cheetos cracker, however, they are large enough to 3D print a 7-inch Cheetos  cracker.
Q: You also have a virtual reality room (VR) at the Digital Scholarships Commons. What are some of the applications of the software in learning approaches?
A: 1) VR archeology dig site, 2) Pompei volcano eruption simulation, 3) VR painting, 4) Visit almost any part of the world using Google Earth, are some examples that come immediately to mind.
Q: You lead many workshops that the DSC offers. What is the best part about teaching people how to use digital tools?
A: The best part of teaching in the DSC is watching people develop the skills that they either need to help them further a research project or pursue a passion project. There is a visible difference on people's faces when they're learning a skill that they need to use to solve a problem they have or create something unique.
Q: What advice would you give to students regarding a hybrid approach to learning with digital tools now that the university has moved to in-person classes?
A: Hybrid instruction is a more difficult teaching method compared to either 100% in-classroom teaching or 100% Zoom instruction, so please have patience as instructors develop or improve their hybrid instruction skills and curriculum. The importance of hybrid or HyFlex instruction is that it makes education more accessible and equitable for students with family responsibilities, health issues, transportation challenges, or work scheduling.
Q: What is the new equipment that has just arrived in the DSC?
A: A laser cutter! It should be available for use by members of the campus community in September 2022, along with a workshop to help people who are new to laser cutting make some practical items and develop their laser cutting skills.
Interview and photo by work study student Aafiya Bhayani.