Librarian Matt Huculak files his latest field notes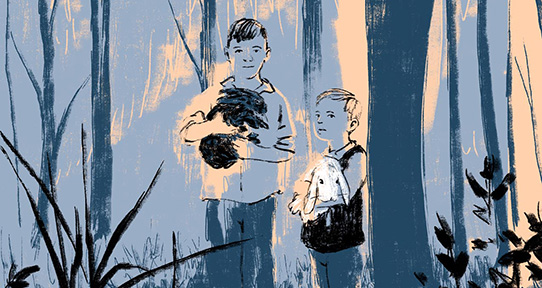 Draft Cover for 13 Secrets. Conversations with Rolf and Nico Kamp. Gilad Seliktar, 
Rolf Kamp, and Nico Kamp
by: Matt Huculak, Digital Scholarship Librarian
It has been nearly two years since I was introduced to Dr. Charlotte Schallié from the Department of Germanic and Slavic Studies. She was in the process of preparing for a workshop overseas at the Ravensbrück Concentration Camp memorial. Her idea was timely and important: bring together artists, Holocaust survivors, historians, students, and teachers to create graphic novels to tell the stories of survivors to a new generation of students. I was invited to attend this workshop in order to give workshops on digital preservation (which I wrote about here), and to learn from my colleagues and friends.
Since that time, Dr. Schallié's project has grown, and it has been awarded a Partnership Development Grant by the Canadian government—and UVic Libraries are an active collaborator. The roles of librarians are changing in 21st century information environments. My colleagues and I still spend time collecting books and teaching students how to use our resources, but we're also increasingly embedded in large projects within the faculty. The Libraries are a place that faculty and students seek out new training opportunities—such as learning how to digitize rare material, how to describe it, and how to create exhibits so they can share their work with the wider world. Our organizational skills make us helpful in project management and planning for the long-term access and preservation of today's material that will fuel tomorrow's researchers.
I'm pleased to report that the artists and survivors have created beautifully moving stories through graphic novels that will be made available in 2022. My colleague Inba Kehoe, UVic Libraries' Scholarly Communication Librarian, has provided wonderful support regarding publishing contracts, while the Digital Scholarship team has provided valuable training for students working on the project. It is my great honour that I get to share with you a small sample of the fruits of that collective labour, as the first images of the graphic novels are now made available.
Rolf and Nico Kamp are two brothers from the Netherlands who were hidden away by farmers in the countryside after the Nazi invasion until the Canadians liberated them in 1945. The brothers partnered with Israeli graphic novelist, Gilad Seliktar, to co-create a graphic novel that tells their remarkable childhood story for a new generation of students, in both Canada and abroad. For these two young children, keeping secrets was essential to their survival. Thanks to the efforts of all the researchers, librarians and participants involved in this project, the graphic work and material produced in the making of this project will eventually be preserved for posterity at UVic Libraries. Because memory, after all, is what makes us who we are, and the preservation of our memories is one of the most important roles libraries can serve as caretakers of knowledge for the future.
See the short trailer of Gilad Seliktar and the Kamp brothers meeting for the first time.
Watch the 8-minute movie.