Faculty Success with Charlotte Schallié: A dedicated student of archival research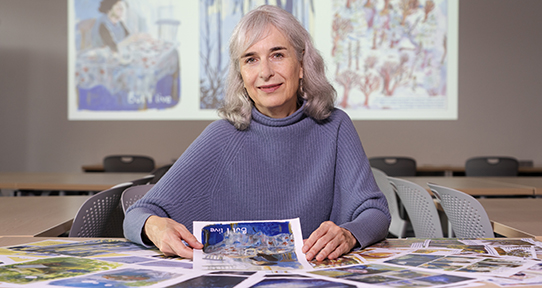 UVic Libraries is pleased to celebrate faculty success with a series of interviews featuring researchers and their recent collaborative projects
Germanic Studies professor Charlotte Schallié's research project, Narrative Art and Visual Storytelling in Holocaust and Human Rights Education, brings Holocaust survivors and artists together to create open-access educational resources for students. The project has produced several graphic novels and short films that will be used in Holocaust and human rights education. UVic Libraries partnered on this important project to provide digitization and metadata training for the research team, and to build a digital archive of materials donated by Holocaust survivors and their families. UVic Libraries is pleased to work with Charlotte to develop pedagogical tools for human rights educators around the world.
What is your favorite place in UVic Libraries and why?
The lounge seating areas are my favourite hiding places in the library. They are light-filled and inviting but still feel secluded and intimate (may I request to add an adjacent cocktail bar that serves non-alcoholic drinks?). Most importantly, these serene reading lounges have invisible 'do not disturb' signs attached to the furniture. The only downside is that access to this superior level of seating comfort is hard-fought. If I am lucky to get possession of a chair-ottoman configuration (optimizing the comfort level!), I immediately surround myself with sky-high piles of books; it is an unambiguous gesture signalling that I have no intention of leaving my priced reading arrangement anytime soon.
What is your favorite LC subclass (the first two letters at the beginning of a call number range) and why?  
This question is a great conversation starter! My favourite subclasses are DD-N-PD: A unpronounceable and mysterious string of consonants that interlinks the history of German-speaking countries with visual arts and contemporary literature. These are my intersecting research areas but, while 'on location' in the library stacks, I always like to deviate from my 'original research plan' and explore adjoining subclasses, contemplating new and exciting consonant combinations (personal request to the Library of Congress: make the subclasses more imaginative and colourful! Who gets excited about "naval ordnance"?).
Half of the pleasure of experiencing a physical library is to search the stacks without proper guidance (in this case: without a call number) and get lost in titles that are stacked in nearby shelves, or are randomly piled up on book carts. Inevitably, this library flaneuse cannot wait to leave the building with a book that I had no intention of finding in the first place.
What is the most exciting or interesting experiene that you've ever had in a library or archive?

I am a dedicated student of archival research. Sifting through archival records tends to be an unspectacular endeavour that has to be tediously endured over weeks or months on end . . . until the very moment when, after having plodded through piles of illegible sources (penmanship is a lost art!), you stumble upon an obscure piece of writing, or an arcane piece of documentation that turns out to be an archival showstopper. Both sensational and catastrophic in scope, such an unexpected archival discovery tosses your entire previous research findings overboard. I am fortunate to have had my archival work derailed twice in this manner (at the Swiss Literary Archives in Bern and at the Archives of Contemporary History at the ETH Zurich). I cannot wait for it to happen again.
Is there anything else that you'd like to tell us?
I wish there was a library story to be shared that involved intrigue or romance. But no. Sadly.
Celebrate the success of UVic faculty: read more.