Faculty Success with Angie Chau: Creating movie magic with students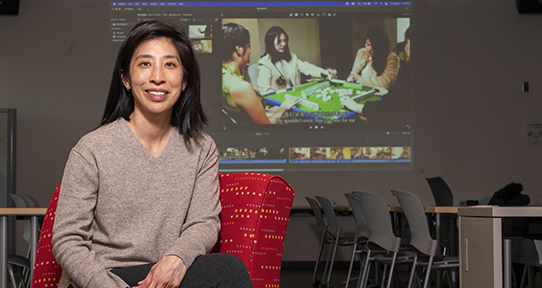 UVic Libraries is pleased to celebrate faculty success with a series of interviews featuring researchers and their recent collaborative projects.
Professor Angie Chau, of UVic's Pacific and Asian Studies, engages her students in creative class assignments that allow them to apply their knowledge in artistic ways, while also acquiring practical technical skills. The library's Digital Scholarship Commons staff have developed custom video editing workshops to help Angie's students to create their own short adaptations of the Chinese-language movies and literature that they have studied in class. We have worked with Angie's students to imagine alternative narrative possibilities by training them to use the interactive storytelling tool Twine. We also provided a StoryMaps workshop for her directed readings seminar on a project highlighting the transnational movement in the life and literature of the author Eileen Chang. UVic Libraries love helping our instructors to develop hands-on learning opportunities for students. Any of our DSC workshops can be customized for your class.
What is your favorite place in UVic Libraries and why?
Digital Scholarship Commons! This is a great open space at the library where we can bring our students to attend workshops, and where I get to test out Oculus Rift in the VR room!
What is your favorite LC subclass (the first two letters at the beginning of a call number range) and why?
PL - Chinese language and literature is such a broad category, so I love checking out how each library's collection has something different and unexpected.
What is the most exciting or interesting experience that you've ever had in a library or archive?
 During a research trip to the Bibliothèque Municipale in Lyon, I had the opportunity to work with the archival materials at the Institut franco-chinois, which holds a fantastic collection of newsletters, journals and letters by writers and artists like Pan Yuliang and Dai Wangshu, all related to the Chinese work-study movement that started in 1919.
 Is there anything else that you'd like to tell us?
The library has so many amazing resources that our students and faculty should advantage of––many of our students may not be aware of the Digital Scholarship Commons and what the physical library space offers, so I encourage them to go and check it out in person!
Celebrate the success of UVic faculty: read more.