Librarian climbs to new heights with Mountain Legacy Project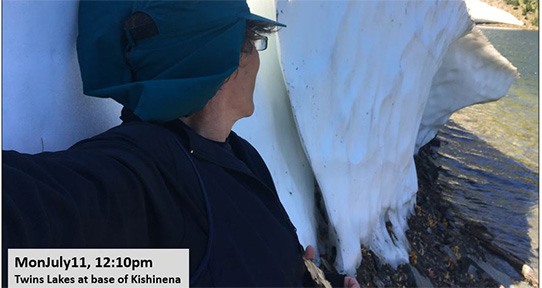 by: Matt Huculak, Head, Advanced Research Services
In July 2022, geospatial librarian daniel Brendle-Moczuk participated in an expedition to assist with research for UVic's Mountain Legacy Project. Led by Dr. Eric Higgs, UVic professor in the School of Environmental Studies, the Mountain Legacy Project is dedicated to understanding how landscapes and ecosystems change over time through the collection and study of systematic historical mountain photographs. On this expedition, the team summited four peaks in 12 days to take approximately 50 repeat photographs from various historical surveyors, such as the photographs taken by Allison B. Grant of Mount Alderson in 1953.
The team was accompanied by a vegetation and soil PhD student from the UK, who was not able to bring a soil sampler—an integral piece of equipment for their research—across the Atlantic. To address this issue, daniel thought about how a soil corer could be constructed, and he went to UVic Facilities knowing they might have old hollow fence and signposts. daniel told the facilities staff about the graduate student's needs, and they volunteered on the spot to make a soil sampler using an old fence post. The student was then able to collect their samples because of our supportive community at UVic.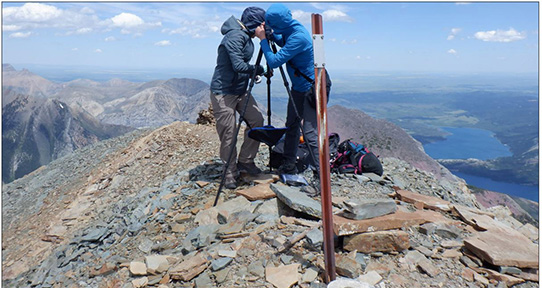 daniel shares a summary of activities with UVic environmental studies graduate student Claire Wright and visiting researcher Laura Turner, University of Nottingham:
Arrive Thursday, July 7:
Planning the nights before summits: lay out historical photos to understand our repeat photography goals; prepare equipment; pack equipment/food/warm clothes for journey/summit and safety.
Hike and scramble several hours to mountain ridges/summits helping to carry camera equipment, safety gear, warm clothing, sustenance, etc.
Set up above to obtain repeat images as close as possible to original surveyors' (glass plate archival) images (could take 2-3 hours).
Record azimuth, coordinates, weather (temperature, wind direction/speed, barometric pressure, humidity, etc.); brief narrative of #1 above re: routes and how weather affected #2 above and any changes throughout the 2-3 hours.
Help pack everything away.
Hike and scramble back down helping to carry equipment etc.
Once back at either base camp or at research accommodations in town of Waterton, then download images, tidy #3 & #4 above.
Clean and prepare equipment for another day.
Take soil and vegetation samples on off/rest days (from summiting mountains).
Repeat.
Depart Tuesday, July 19.
Throughout the academic year, UVic librarians actively participate in research related to their respective areas of expertise
Read more about: A Day in the Field: Going up Mt. Alderson