Geospatial & Statistics Canada Data Librarian Daniel Brendle-Moczuk shares his passion for maps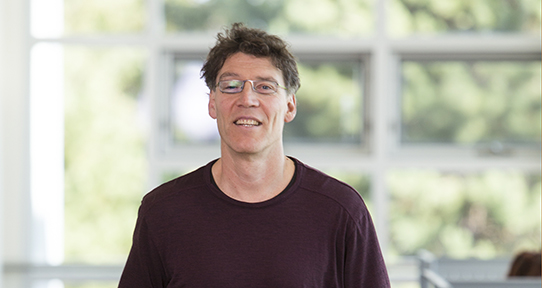 Interview conducted and edited by: Zehra Abrar, work study student
You are the Geospatial, Statistics Canada & ICPSR Data Librarian and liaise with the departments of Economics, Environmental Studies, Geography, and Sociology. Tell us which one of these subjects fascinates or interests you the most?
I enjoy working with the faculty and students of all these departments. I appreciate visual presentations of data but maps categorically convey what and where and I really enjoy making maps with faculty, students and the public. Geospatial analysis for and with these folks is also very satisfying.
What is the first map and most recent map you made with someone?
I remember working on a series of maps in 2011 with a UVic Anthropology graduate student Claudine Gravel-Miguel, regarding the last glacial maximum around the Iberian Peninsula and western Mediterranean; see Exoticism of portable art and ornaments: a study of social networks around the Last Glacial Maximum. Claudine now has her PhD and works at Arizona State University.
More recently I made a map for Emeritus Professor and former Dean of Social Sciences John Schofield for his book Sticky Wicket: Over 150 years of cricket on Vancouver Island. Also recently, Denise Cloutier and I wrote an article on "Health Services and Service Restructuring" for the International Encyclopedia of Human Geography, 2nd ed. and I made a map and a visual chart for the article.
What are some of your favorite maps that you have worked on?
All of them are very gratifying but if I had to chose… the maps for Journey of hope and opportunity: the story of the Victoria Italian Assistance Centre 1955-2015 by Giovanna Greco because I got to know some folks from the Victoria Italian community and enjoyed some great Italian food!
Another favorite map was for Helen Raptis' My job was to teach: Educators' memories of teaching in British Columbia during World War II in Paedagogica Historica because it was a very simple but beautiful map that can't be made with Google. Also, the maps for The new gold rush: Placer mining in the Fraser watershed in BC Studies because they were such a great collaboration with the folks from Fair Mining Collaborative and BC Mining Law Reform.
What are you currently working on?
Pre-consumer plastic production pellets (nurdles) are spilt at industrial sites and are washing up on waterfronts all over the world and specifically in south-west BC. Librarian David Boudinot and I, along with others at UVic's Environmental Law Centre, Vancouver Island Surfrider Foundation, etc. are geolocating and quantifying the spilled pellets in our region and pursuing ways that these pellets are immediately cleaned up after a spill before they head into street drains on the way to our oceans.
How would you describe your normal working day?
I answer faculty and students' questions in person, via emails and phone calls throughout the day. I select books for purchase for the library in my liaison areas. I work with Alex Goudine, the current Geography graduate student who has (re-)created geospatial GIS ready data from a series of eighteen paper maps on Saanich vegetation from 1976 by the former chair of Geography Phil Dearden. Alex and I also create and offer Introduction to GIS workshops that are offered in the Digital Scholarship Commons. I am always working on materials for presentations and workshops or with someone making a map. There are also matters that arise as the President of CARTO_ACMLA.
Speaking of conferences and workshops, what are some of your favorite conferences and presentations that you've given?
I thoroughly appreciate Western Division-Canadian Association of Geographers conferences because the students are so keen and interesting. I really enjoy presenting workshops on geospatial issues or some sort of visualization. Conducting a three-hour workshop for Ocean Networks Canada in the summer of 2019 was a highlight because they have much thought-provoking data, but one has to know the fundamentals of geospatial tools and decide what to visualize.
Speaking of oceans (and plastic production pellets), my new favorite conference is Cyamus, the western North American chapter of the International Association of Aquatic and Marine Science Libraries and Information Centres because of their work with the marine environment and their great locations such as Bamfield on the west coast of Vancouver Island.
If given a chance to have a conversation with someone, alive or dead, who would it be and why?
I'd love to talk with former President Jimmy Carter because of his former role and the significant work the Carter Foundation does in addressing health concerns and issues throughout the world.
I'd also like to interview my grandparents as I didn't know them, and with apologies to Nobel Laureate Bob Dylan, because "I was so much older then, I'm younger than that now." I'd learn so much more.
What is that one thing that you would like our readers to know about you?
I love learning and I learn a lot when working with others. I like hiking in big mountains, riding my bike, especially riding in the snow; I love when it snows in Victoria!
Finally, a room full of favourite books or a sunny day on a beach, what would you prefer?
On a waterfront with some articles, books, a camera and lots of maps.