Librarian Christine Walde looks to the future for inspiration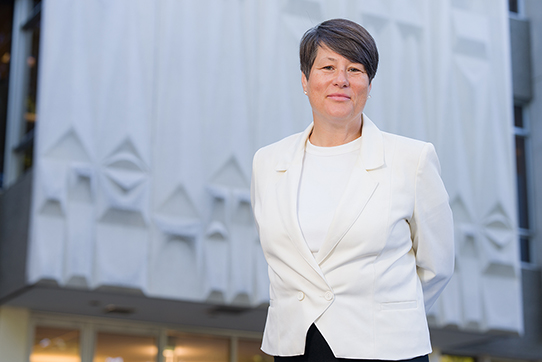 UVic Libraries was the first library in North America to create and hire a Grants & Awards Librarian. What does it mean to be the first Grants and Awards Librarian?
Liaison roles for academic librarians have been steadily evolving from subject-based portfolios to more functional roles that align with institutional priorities in providing advanced research support services for some time. As an academic librarian with a background in the private and public sector, with experience in community development and arts and heritage organizations, being the Grants and Awards Librarian has, in many ways, been a natural evolution of my professional career and aspirations. Being the first Grants and Awards Librarian allows other libraries, librarians and institutions —as well as students, faculty, and the larger community —to gain a deeper understanding of the competencies of my role, while providing insight and opportunities in the new ways that they might evolve to collaborate and align with them.
As a Grants & Awards Librarian, you have helped to get funding for digital exhibits such as Ian McTaggart Cowan and Victoria to Vimy. What goes behind this quest for procuring the funds?
Four words: research, communication, engagement, and collaboration. I never procure any funds by myself; I always work closely with a team of people who will be leading and/or participating in the grant.
Once an opportunity is identified through research or consultation, I communicate with the team to build the application through close engagement and collaboration. Then there's the writing, developing the budget, and the editing, and the rewriting. While I may be the one to identify the grant, the creation of the actual application, along with its eventual submission is a team effort.
What has been your most exciting project as the General Editor of the UVic Libraries Publication Series?
Every project that I have worked on as the General Editor has been rewarding for different reasons; however, the latest publication on the Artists' Archives at UVic Libraries, [untitled]: The Artists' Archives at the University of Victoria Libraries, was particularly exciting because we broke with the traditional codex format that we had previously used for our other five publications and published a series of limited-edition booklets that featured archival material from four Vancouver Island artists: Glenn Haworth, Robin Hopper, Sandra Meigs and Margaret Peterson. UVic Libraries has made artists' archives an acquisitions priority, and it was deeply gratifying to focus on some of the rare and unique holdings in our Artists' Archives, while working with colleagues, as well as local writers, curators and designers.
What research questions do you generally receive as a Gender Studies Librarian?
Typically, students and faculty are looking for assistance on locating resources in our collections for their research. This could mean anything from finding a book in the stacks to getting a scanned article through our Re:Quest service for a course.
What did you work on during your study leave?
In early March, I was attending Introduction to Letterpress classes at Emily Carr in Vancouver, and had made plans to attend an artist residency in Mexico and travel to both the US and the UK. Obviously, my plans changed when the WHO officially declared the pandemic on March 11, 2020. Nonetheless, I was able to work on several academic articles, including one on marginalia in library copies of Sylvia Plath's major works, being published by Bloomsbury in 2021; and one for College and Research Libraries on my role as Grants and Awards Librarian, which will also be published in 2021. I was selected by Victoria Poet Laureate John Barton to read online with Derk Wynand and Terry Ann Carter for National Poetry Month; and I also participated in STANZAS, a city-wide art event sponsored by the Victoria Arts Council, in which I presented In a New Order in their Vault gallery as part of the Concrete is Porous group exhibition. I also created my personal website and read a lot of books about the history of libraries, information, and archives.
How would you say your role in the library facilitates your interests in experimental prose, poetry, visual poetry, performance, and the visual arts?
My role as the General Editor of the Libraries' publication series allows me to delve into our archives and special collections and inspires not just the way I think about the book as a material object, but how information is organized and catalogued, and how libraries operate as knowledge organizations. In my work as an artist, I'm interested in exploring these systems of information, and how they simultaneously support and disrupt these codified norms of categorization. In Data Poetics, a current work-in-progress, I create works of visual poetry from discarded McPherson Library punch cards. To create the poem, the holes in the punch card are used like a stencil and filled in by hand, leaving a remnant pattern which is suggestive of a disclosed code or possible language; the titles of the poems are then taken directly from the book and journal titles displayed. The punch card is used as a point of departure to formulate new compositions of data that we will not be able to decode due to the obsolescent nature of this technology.
If you look back at your career until now, what do you think is your most significant achievement?
There are so many to choose from, but I think one of my most significant achievements was in managing and overseeing the first Moving Trans History Forward (MTHF) conference in 2014, following a successful SSHRC grant with Lara Wilson, Director of Special Collections and the University Archivist, and Aaron Devor, Chair in Transgender Studies and the Academic Director of the Transgender Archives. Though there were less than one hundred attendees, the knowledge that was shared about trans lives and trans experience during that event was substantive, important, and deeply moving for many, including myself. The following year, Caitlyn Jenner came out as transgender, heralding a new era; now MTHF has hundreds of attendees and the fourth iteration of the conference will be held virtually in March 2021.
If you could have been born at any time in the past, when would it be and why?
As a woman, I don't think I would have liked to been born in the past. The fact that women only got the right to vote in Canada in 1916, and that birth control wasn't formally legalized until 1969 (the year that I was born!) is a travesty of justice and equality. If anything, I would like to be born in the future, one hundred years from now, in 2120. Will we have solved the world's problems or will our planet have perished as we flee to the outer world colonies on Mars? Will it be more like Blade Runner 2049 or Spaceship Earth? That is something I'd like to see.
What movie never fails to make you laugh?
Spinal Tap. "It's such a fine line between stupid and, uh, . . . clever."
Read more about Christine's work.
Interview conducted by Zehra Abrar