BC Theatre History Preserved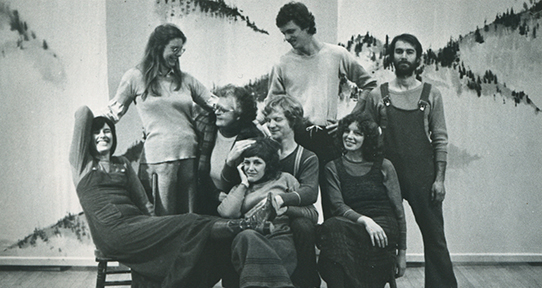 Original founding members of Theatre Energy, 1976; Ron Woodard, photographer; 
Theatre Energy fonds, SC581


by: James Hoffman, with Lara Wilson, Director, Special Collections & University Archivist
It was a trip to the Kootenays over a decade ago that landed UVic Special Collections a significant BC theatre collection. This is when I drove my pickup truck to the Slocan Valley to meet Judith Ceroli, a founder and long-standing member of a unique rural professional theatre company called Theatre Energy.
From the mid-1970s to the early-1990s the company worked as a theatre collective where all members pitched in to create original plays about life in the Kootenays. Interestingly, this small rural company had two members with ongoing connections to cutting edge big city collective theatre companies: former Weavers singer Ronnie Gilbert (1926-2016), with Joseph Chaikin's Open Theatre in New York City, and Buzz Bense, with Vancouver's Tamahnous Theatre. Three early successful works, Renderings, Voices-Now and Then in the Kootenays, and Muck Millie Virgil, presented scenes based on the life of miners, Doukhobors, orchardists, hippies and others, while their fourth work, Power Play, laid bare issues surrounding water power usage in the Kootenays.
As a performer, director, stage manager, administrator, and bookkeeper for Theatre Energy over the years, Judith Ceroli had amassed two long plywood boxes of materials: correspondence, financial records, press releases, reviews, newspaper features, photos, and posters. The sum of these materials attests to the potent work of this theatre collective as they mobilized deeply felt local stories, and then toured them; first locally, then around the province and beyond.
As a BC theatre historian I was concerned—as indeed was Ceroli—about the fate of the boxes which had been kept precariously in an outside shed. We agreed on the need to find a suitable repository, where they could be properly stored, organized, and made available for future study. The result: I packed the boxes onto my truck and took them to Thompson Rivers University where I was working as a theatre professor. The head librarian accepted the collection, but only on a temporary basis as there were no plans for maintaining such archival collections.
Finally, I contacted UVic Special Collections, which accepted the collection in 2015. Archivists and support staff were extremely helpful in working with me to determine the organization of over three metres of materials—which are now available for study. The full list of these files are now online, called the Theatre Energy fonds.
James Hoffman is an alumnus, former theatre professor of UVic, and a professor emeritus of Thompson Rivers University.
---
The Theatre Energy archives joins a number of fonds and collections of individual artists and companies from the history of BC theatre, including Hoffman's own fonds of BC theatre research materials. Many thanks to our donors, and to colleagues past and present, for their work to preserve these rich cultural materials. These records are available for teaching, research and community access in Special Collections & University Archives.
Other BC theatre holdings in Special Collections and University Archives:
Lara Wilson is the Director of Special Collections and the University Archivist.