Approaching Decolonization in our Classrooms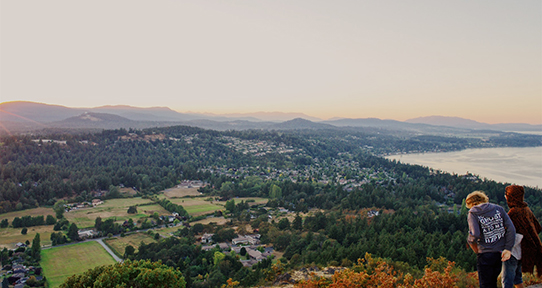 View from Pkols, photo by Kosuke Noma on Unsplash
by: Paula Raimondi Cantú, library work study student
While territorial acknowledgements are a vital and important aspect of our reconciliation efforts, they often don't fully recognize the histories and knowledge of the Indigenous peoples whose territory we are acknowledging.
As students and community members settled on the unceded Coast Salish territory of the Lekwungen and W̱SÁNEĆ peoples, it's our obligation to challenge colonizing structures and educate ourselves about the importance of memory and Indigenous knowledge in the path towards reconciliation. Through decolonization, we can start addressing the barriers Indigenous members of our community face, and starting in our classrooms.
In a classroom, decolonization takes place by questioning and discussing the colonizing structures and practices that have influenced the education system. The legacy of colonization has been one of power and control that, over the years, has become a subtle one. Its effects have permeated our knowledge of history, which in turn has reinforced biases that impact Indigenous people, folks of color, and equity-deserving groups. As settlers, we have had the privilege of being favoured by institutional structures that maintain systemic power relations, colonial ideals, and a predominantly Eurocentric curriculum.
In a classroom, for instance, we're not used to questioning the material we read and work with—our privilege has made us comfortable, and we shy away from asking whose stories are being told and whose have been omitted. The first step to engaging with decolonization is to acknowledge this settler advantage. It may be uncomfortable and unsettling, but we owe this process to those who have been uncomfortable, unsettled, and affected by colonization. This is a learning process, and the fact that you're reading this now means you have already started the process of engaging in these necessary reflections.
Once we have acknowledged our privilege, we have to prepare ourselves to learn and recognize that students and faculty who are Indigenous, or who are folks of color, or are from other equity- deserving groups, are always facing the challenge of overcoming ignorance and racism in a setting that is meant to be nurturing and enriching for all. When we are dealing with material in the classroom, we must challenge dominant settler narratives and examine whose stories we are hearing, and who were they made for, and where they come from.
Ry Moran, UVic's Associate University Librarian for Reconciliation, has some resources and advice to help students and community members approach the decolonization process.
What resources would you recommend to start engaging with the decolonization process?
Ry Moran: I'm a big fan of film and there are some exceptional filmmakers out there in the Indigenous community. Check out the imagineNATIVE Film + Media Arts Festival for an excellent listing of top tier Indigenous films from around the world. Browse through the National Film Board's collection and watch both contemporary works by filmmakers such as Tasha Hubbard and Alanis Obomsawin. Watch some of the older films with a critical eye to witness the construction of a national narrative of displacement. Check out some of the award-winning films of 2020 such as Beans which documents the crisis at Oka from an Indigenous perspective.
What preparation do students and community members need to do to approach decolonization in the classroom and other educational settings?
RM: When we take a step back and look at the big picture of decolonization and reconciliation, we have to understand that a lot of the work happens at the individual level. I would really recommend students and community members start with the foundational concepts articulated in RCAP and the TRC's reports which include a rejection of the Doctrine of Discovery and Terra Nullius. By rejecting these concepts, one is much better able to understand the unravelling necessary to pursue a path of decolonization.
What terms and/or questions should be addressed to start a discussion?
RM: It's important to ask what the histories are of the land you are on—but also the systems of relationship that are enmeshed through those histories. What are the governance systems, the education systems? What are the legal systems? Opening one's mind to these questions will undoubtedly reveal rich and complex systems that fly directly in the face of the racist and prejudiced concepts promoted in Canada for far too long.
What should we reflect on as we consider the effects that colonization has had in our education?
RM: We need to remember that colonization has created profound harms both here and around the world. The path of decolonization must at once recognize those harms, and must understand the sources of those harms and then ensure those harms are never again repeated. Creating sustainable, respectful societies can and must be based on letting go of the many forms of violence still deeply enmeshed within the colonial approach and mind.
For more resources, you can check out the reading lists from UVic Libraries' decolonization reading groups and most recently the Indigenous Approaches to Holistic Wellness library guide.