A leading architectural influence: Digitized Alan Hodgson Collection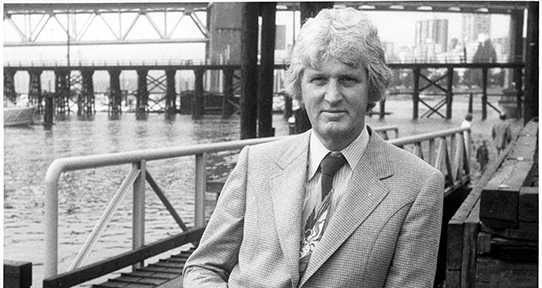 Architect Alan J. Hodgson in front of Burrard Street Bridge in Vancouver, B.C. Photo: Anne Sajiw-Terriss
by: Lara Wilson, Director, Special Collections & University Archivist, and Matt Innes, Hodgson project metadata assistant
With generous funding from the British Columbia Historical Digitization Program from the Irving K. Barber Learning Centre at UBC, Special Collections and University Archives is pleased to announce the availability of the Alan Hodgson architectural plans and drawings collection, via UVic Libraries' digital asset management platform, Vault.
Alan Hodgson (1928-2018) was a Victoria-born architect often associated with the "West Coast Modern" style. Hodgson's engagement with new design formulas was balanced with his belief in the value of preserving a city's built history. His leadership in the restoration of the B.C. Legislative Buildings; contributions to the transformation of Victoria Centennial Square; and involvement in the development of the University of Victoria's Gordon Head Campus and the MacLaurin Building have left an influential mark on the regional architectural landscape.
Totaling approximately 2,500 items related to over 40 projects, the collection includes elevations and floor plans, sketches and drawings, associated landscaping plans, photographs and related records, as well as Hodgson's curriculum vitae. The Libraries' new digital collection compliments Victoria Modern, a series of previous online exhibits and publications dedicated to architectural modernism in Victoria, created by Professor Martin Segger and the Legacy Galleries, with other co-authors and curators.
Hodgson's career in architecture evolved out of his childhood interest in boat building. As a teenager in 1947, he was employed at Yarrows Ltd. in Esquimalt where he worked on the interior of the Prince George (II). There he found a mentor in architect C. Dexter Stockdill, who encouraged him to pursue a career in architecture. Following positions with different firms and after articling with the British Columbia Department of Public Works, he earned his diploma from the University of British Columbia in 1958. In 1960, he registered as a practicing member of the British Columbia Architectural Institute and opened his practice. Over 500 projects passed through his firm, the diversity of which included public, civic, domestic, commercial, industrial, and ecclesiastical building projects – both new and restorative in nature. His projects have been recognized at the local, provincial, and national levels, including a 1981 National Heritage Conservation Award.
Our sincere thanks to Martin Segger and Robert Amos for connecting Lara with Alan, and to Alan's wife Sheila Hodgson for the generous gift of Alan's archival fonds.
The project was realized with the support of University Librarian Jonathan Bengtson, Grants and Awards Librarian Christine Walde, and with the work of grant-funded Metadata Assistant Matt Innes, Metadata Supervisor for digital collections Karen Dykes, Senior Digital Scholarship Developer and Analyst Tiffany Chan, and Head Metadata Dean Seeman.