Legacy's Collection Travels Canada
Even as everyone stays close to home this year, pieces from the Legacy collection have been travelling to different galleries across the country.
Earlier this year, we loaned some of our Maxwell Bates paintings to the Glenbow Museum in Calgary for the show Maxwell Bates: The In Crowd. Bates was an astute people-watcher and captured many vibrant social scenes through his paintings. Visitors enjoyed three paintings from the Legacy's collection at the Glenbow: Yellow Reception, Charlotte Bates, and The Dingle House Restaurant.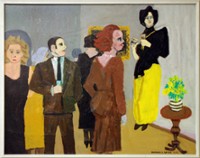 The exhibition has now closed, but is still viewable online. Experience the virtual tour of the exhibition.
If you're in Vancouver, you can see the pioneering designs of ceramicist Stan Clarke in the Vancouver Art Gallery's exhibition Modern in the Making: Post-War Craft and Design in British Columbia. Clarke began his artistic career as a landscape painter, but soon transitioned to ceramics after taking evening and summer courses. The show runs until January 2021.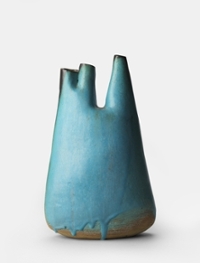 Learn more about Modern in the Making.
In June of next year, Emily Carr's A Chill Day in June will be travelling to the McMichael Canadian Art Collection in Kleinburg, Ontario. The oil painting will be included in the exhibition Uninvited: Canadian Women Artists in the Modern Movement, on until January 2022. The exhibition is set to bring together over 200 works of art by Canadian women artists and was conceived of as a counterpoint to Group of Seven's 100th anniversary celebrations
A catalogue featuring 30 essays by Canadian writers, artists and art historians from coast to coast will accompany the exhibition. Several other Canadian art museums will host this exhibition in 2022.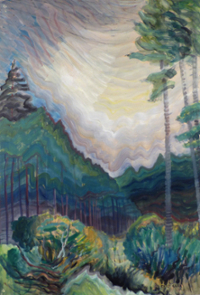 Images top-bottom:
Maxwell Bates, Yellow Reception, oil on canvas, 1972, Gift of Myfanwy Spencer Pavelic. U996.25.2
Stan Clarke, Vase, 1960, Gift of A.H. and E. Fitzgerald. U983.2.55. Photo: Ian Lefebvre, Vancouver Art Gallery
Emily Carr, A Chill Day in June, 1938-39, Bequest of John and Katharine Maltwood. M964.1.111