Ambreen H.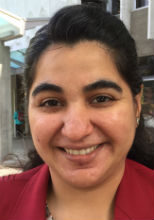 Position
Area of study: Art history & visual studies
Academic presentations, Structure & organization, Argument construction
My name is Ambreen and I am a doctoral student at the Art History and Visual Studies Department, University of Victoria. I am working on the contemporary artistic expressions of the Qur'an for my current research project. I have a vast experience of teaching and training at multiple levels ranging from undergraduate students to teaching assistants (TA). I also have strong presentation skills.
I believe in development and growth. I am confident that we all have various competencies (such as intellectual, emotional, physical and spiritual) that may help us grow. I will be delighted to support you in enhancing your presentation skills, constructing arguments, and structuring and organizing your research essays. I look forward to sharing my experience with you at the Centre for Academic Communication (CAC). Hope to serve you soon.