Martin Adam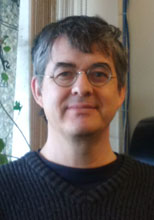 Position
Associate Professor, Undergraduate Advisor
Pacific and Asian Studies
Contact
Office: CLE C231
Area of expertise
History of Buddhism; Indian Philosophy and Religions; Philosophy of Religion; Socially Engaged Buddhism; Ethics
Credentials
PhD, McGill University
Research Interests
History of Buddhism

Indian Philosophy and Religions

Philosophy of Religion
Socially Engaged Buddhism
Ethics; Early Buddhist Ethics
Buddhist Meditation Theory
Free will and personhood in Indian Buddhism
Biography
My area of research specialization is Indian Buddhism, with more general interests in other south Asian religious traditions (Hinduism, Jainism). I received my PhD from McGill University in 2003. My studies have included extended periods at institutions in India, Nepal, and Switzerland. A recent study leave included periods at McGill's Faculty of Religious Studies and Oxford's Wolfson College, where I was conducting research in the area of early Indian Buddhist Metaethics. My present duties at UVIC include serving as the Director of the Religious Studies Program. My teaching duties are split between Religious Studies and the Pacific and Asian Studies Department.
Selected Publications
Edited Volumes
Articles
"Buddhism, Equality, Rights." Journal of Buddhist Ethics (2013) Special 20th Anniversary edition Vol. 20: 421-443.
"The Consequences of Consequentialism: Reflections on Recent Developments in the Study of Buddhist Ethics." In Wading into the Stream of Wisdom:  Essays Honoring Leslie Kawamura. Edited by Sarah Haynes and Michelle J. Sorensen. Berkeley: Institute of Buddhist Studies (2012).
"No Self, No Free Will, No Problem: Implications of the Anattalakkhana Sutta for a Perennial Philosophical Issue," in Indian Buddhist Metaethics: Panel Proceedings from the Meeting of the IABS, Atlanta, 2008.  Ed. Martin T. Adam. Journal of the International Association of Buddhist Studies, 2010. (2011) 33: 239-265.
"Classes of Agent and the Moral logic of the Pali Canon" Argumentation: Special Volume: Buddhist Logic and Argumentation,

Springer (2008) 22: 115-124.

"Some Notes on Kamalasila's Understanding of Insight Considered as the Discernment of Reality (bhuta-pratyaveksa)." Buddhist Studies Review (2008) Vol. 25 (2): 192-207.

"Two Concepts of Meditation and Three Kinds of Wisdom in Kamalasila's Bhavanakramas: A Problem of Translation."

Buddhist Studies Review (2006) Vol. 23.1: 71-92.
"

Nonviolence and Emptiness: Buddha, Gandhi, and the 'Essence of Religion

'." ARC (2006), Vol. 34:  225-238. 

"Groundwork for a Metaphysic of Buddhist Morals: A new analysis of puñña and kusala, in light of sukka".

Journal of Buddhist Ethics (2005) Vol. 11: 62-85. 
"The Problem of Prejudice: Some Notes on Philosophical Hermeneutics for Broad-Visioned Buddhologists." Journal of Contemporary Buddhism (2002) Vol. 3/1: 31-49.
"A Post-Kantian Perspective on Recent Debates about Mystical Experience." Journal of the American Academy of Religion (2002) Vol. 70/4: 801-817.
Courses
PAAS 306:  Indo-Tibetan Religious Traditions
• Early Buddhist Ethics
• History of Indo-Tibetan Buddhism
PAAS 493:  Seminar in Buddhism
• Reading seminar: the Dīgha Nikāya
• Reading Seminar: Nāgārjuna's Mūlamadhyamikakārikā.
PAAS 204:  (Cross-listed with RS 200B) Introduction to Hinduism, Buddhism, Sikhism and the Chinese Religions
RS 401:  Selected Topics
• Buddhist Meditation
• Death and the Afterlife
RS 301:  Contemporary Religious Issues
• Gandhi and the Ethics of Non-violence
RS 302:  Ways of Understanding Religion
• Mysticism and Knowledge