News title
Gilian Sherwin Alumni Award for Excellence in Teaching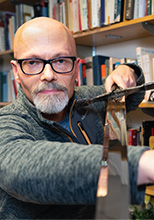 Michael Reed is a distinguished scholar/teacher who contributes to multiple degree programs across faculties at UVic. He creates safe and engaging learning spaces, weaving interdisciplinarity into his teaching of philosophy, art, archaeology and literature.
An instructor at UVic since 2016, he began as a sessional lecturer who quickly built a strong reputation among students as a result of his engaging demeanor. His teaching is dialectical, emphasizing discussion and critical reflection.
He excelled in the digital learning environment, incorporating virtual site visits and discussion into online lectures, creating innovative and impactful learning experiences.