Lowell Hinrichs - Norwegian stave church
Tuesday February 14th
7:30 - 9:30 pm in the Human and Social Development Building, room A240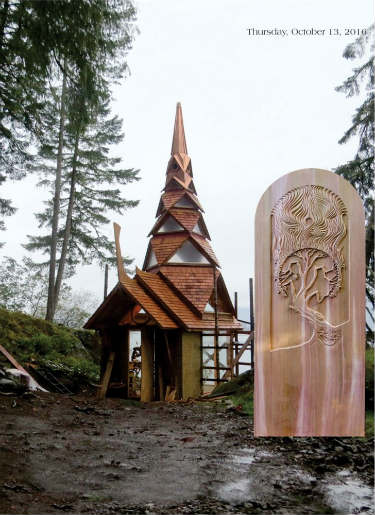 Some 40 years ago former UVic Math professor Lowell Hinrichs assembled a small co-op to purchase 112 acres of land in East Sooke, where he built a spectacular home for himself and his family with lumber from his property that he milled himself. When diagnosed with stage 4 lung cancer a few years ago, the non-believing son of a Lutheran pastor nonetheless responded by constructing a chapel on his compound. The project, an exercise in geometry that shares the features of a Norwegian stave church and a Burmese pagoda, is nearing completion and Hinrichs will discuss how and why he embarked on this project.
This talk will be illustrated with Hinrichs's photos taken throughout the project.
This session is jointly sponsored with the Vancouver Island Woodworkers Guild, the UVic Retirees Association and Medieval Studies.