WS major Rachel Paish is runner-up for Young Entrepreneur of the Year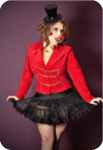 Women's studies major Rachel Paish is the runner-up for the Young Entrepreneur of the Year Award from the Greater Victoria Chamber of Commerce. As one of only two finalists, Rachel's company Passion and Performance received $10,000 for marketing, and Rachel was a guest at the Greater Victoria Business Awards Gala, where the winners in all categories were announced.
Rachel created Passion and Performance to provide adults with a fun approach to health, sexuality and expression. The non-traditional dance classes have titles like Hotness 101, Can Can Fitness and Tie Up and Tease. They focus not only on what it means to feel "sexy," but also how to find confidence within yourself and be a sexually confident and empowered individual. There are over 22 classes offered for all body types, identities and abilities. The company is actively involved in the community and supports the Women In Need Society.
Passion and Performance also offers a monthly Love Your Life Workshop, which is a class that has nothing to do with dance. Classes have included hair care, sex positive activism, sewing 101 and chocolate making with Bernard Callebaut chocolatiers.
Congratulations, Rachel, and all the best for Passion and Performance!