Women's Studies student Tara Paterson wins Rhodes Scholarship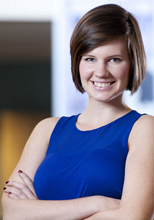 Congratulations to Tara Paterson — women's studies honours student, devoted community volunteer, ardent activist and former UVSS chair — who heads to Oxford University as UVic's latest Rhodes Scholar. Tara is the 2013 Rhodes Scholar for British Columbia.
The postgraduate award, which covers all travel, living and study expenses at the British university, is valued at more than $100,000.
"We are extremely proud of Tara Paterson. She possesses the qualities of a Rhodes scholar—outstanding academic achievement, leadership and commitment to service," says UVic President David Turpin. "It is a pleasure to see Tara recognized and we wish her every success."
Paterson graduated in June 2013 with a BA honours degree in women's studies (Faculty of Humanities) and major in political science (Faculty of Social Sciences). Her thesis research in this final year of undergraduate work is on social movements, maternal health-care funding and the recent G20 protest in Toronto. Paterson plans to pursue a master's in philosophy in comparative social policy at Oxford, and to continue her unwavering commitment to advocacy and activism.
UVic Women's Studies Chair Annalee Lepp says, "Besides being a sophisticated and astute thinker, what really stands out about Tara are the countless ways that she really lives her social justice politics and puts theory into practice—from mentoring students in our department and across campus, to contributing her outstanding leadership and coalition-building skills to various organizations and initiatives at UVic and in broader communities. In short, Tara is most deserving of this major accomplishment." Lepp was co-supervisor, with UVic Associate Dean of Humanities Sikata Banerjee (women's studies), for Paterson's honours thesis.
In her Rhodes application, Paterson recounted being eight years old and witnessing a play about a Squaxin Aboriginal girl's forcible removal from her home. She says: "While profoundly moved by it, I could not know then that this single story of abuse, resistance and friendship would impact the direction of the rest of my life."
Up to 11 Rhodes Scholarships are awarded in Canada each year.
Congratulations, Tara, and very best wishes for your continuing success! We're so proud of you!