WS grad #3 of Vancouver's Top 30 Under 30
UVic WS graduate Melanie Matining is #3 in Xtra Vancouver's Top 30 Under 30!
On September 10th, Xtra Vancouver posted, "For the next 30 days we will unveil BC's best and brightest young queer leaders. Meet the activists, artists, organizers and educators who are building our community on a daily basis. The next generation begins now."
Congratulations, Mel!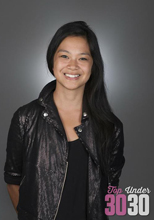 Here's Melanie's write-up from Xtra Vancouver:
When Melanie Matining came out of the closet in university, she came to the startling realization that she was expected to choose which part of herself was more important.
"As a queer woman of colour, I felt there were really big blocks," she recalls. Then, taking women's studies at the University of Victoria and working for a non-profit that targets women of colour, she found herself wanting to discuss queerness at work or sexuality with students of colour on campus but was repeatedly met with resistance.
"We all have these multiple layering identities, but we only really seem to talk about one thing. Either we're going to be women or people of colour or queer. It's such a shame that all of these conversations are happening in isolation," she says.
Last year, Matining was one of several Vancouverites who helped found the QTIPOCalypse collective, a group for queer or trans indigenous people or people of colour (QTIPOCs).
"In queer and LGBT spaces in Vancouver, the conversation of race sometimes seems like something that's a bit too big," the 26-year-old says.
Since forming last fall, the group has held a showcase for QTIPOC performers, singers and spoken-word artists, a dance party and potlucks.
The group has received some pushback from people who haven't agreed with their policy of holding events for only self-identified QTIPOCs.
"The whole point of QTIPOC-only space is to listen to the community and ask what they need," Matining says. "People were saying, 'Sometimes we feel really in the margins. We're hanging out in spaces where people don't want to talk about race, but there's very blatant racism.'
"We wanted to create a platform for that. This is a really important piece of us and we don't want to be quiet anymore, but we also want to do it in a way that's really celebratory and healing. We want to do it in a place that feels safer."
Matining says that collectives like QTIPOCalypse are only one part of addressing racism and that change also needs to happen within existing groups.
"We just want to be cheerleaders for people."
Photo of Melanie Matining by Belle Ancell