Loren Husband wins MA scholarships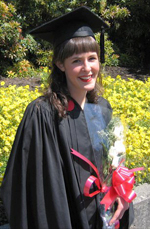 Congratulations to women's studies grad Loren Husband, who has won MA scholarships. Loren was awarded a coveted Joseph-Armand Bombardier Canada Graduate Scholarship, and has also accepted sholarships from York Univerity's Science and Technology Studies graduate program, where she'll pursue her Master's degree.
Well done, Loren! We wish you every success.