Gothic Colours: Bringing the Digital Humanities to PyCon 2017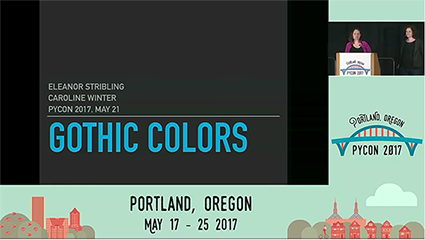 In May, Caroline Winter co-presented a digital humanities project called Gothic Colours at PyCon 2017. PyCon is the annual conference of the Python Software Foundation and was held this year in Portland, Oregon. Caroline is a Ph.D. candidate in the English Department studying British Romantic literature, the Gothic, and digital humanities.
Developed with Eleanor Stribling, a Python programmer based in San Francisco, Gothic Colours investigates how colour words are used in nineteenth century British and American Gothic literature. It uses Python to extract color words from a corpus of texts, analyze their frequency, and visualize the results.
The first iteration of Gothic Colors is live, and version 2.0 is under development. Caroline welcomes comments and suggestions by email.
A video of the presentation is available on YouTube.