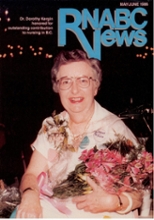 Dr. Dorothy Kergin (1928-1989) was a graduate of the Vancouver General Hospital School of Nursing in 1951, and completed a BSN at the University of British Columbia School of Nursing in 1952. From 1952 to 1963, Dr. Kergin served as a Public Health Nurse with the BC government. Later, she graduated with a MPH and PhD from Ann Arbor Michigan.   
Dr. Kergin was well known for her exceptional work in the development of nursing and healthcare programs, both in Canada and internationally. Her expertise as a nursing adviser and consultant led her to assignments in Pakistan and Malawi. She was Associate Dean of Health Sciences at McMaster University from 1970 to 1979, and Director of the School of Nursing at the University of Victoria from 1980 to 1988. During her tenure there, she led the development of distance education programs for registered nurses delivered via the newly established Knowledge Network. 
Dr. Kergin also led the development of joint appointments between nursing faculty and heath care agencies, a nurse practitioner program, and a collaborative arrangement between UVic and the Aga Khan Foundation for the establishment of a school of nursing in Pakistan. She was the recipient of numerous awards, including the Jeanne Mance Award from the Canadian Nurses Association and the Ethel Johns Award from the Canadian Association of Schools of Nursing. 
Sources: 
BC Nursing History https://bcnursinghistory.ca/dvteam/dorothy-kergin/ 
CNA On-Line Memorial Book https://www.cna-aiic.ca/-/media/cna/page-content/pdf-en/cna-memorial-book-2018.pdf?la=en&hash=FD5B241C82AAB0330256F6A89266A861D179AB12