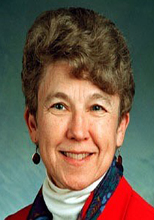 Dr. Lucia Gamroth joined the University of Victoria in 1995. After completing a BSN, an MPA, an MSc, and a PhD degree at the Oregon Health Sciences, she served as Assistant Professor in the School of Nursing in Oregon before coming to UVic.  
Dr. Gamroth dedicated her career to improving the health of older persons within the community, and to academic teaching. Her research focused on the lived experience of aging people, transitions in the lives of older persons, individualized care within the healthcare system, the impact of nursing practice on the quality of life of clients, and autonomy in long-term care.  
She also performed evaluations of funded studies, such as the Undergraduate Nurse Project (a three-year study), Evaluation of Student Prior Learning Assessment and Implementation, Evaluation of the Collaborative Nursing Program in BC, Evaluation of the Seven Oaks Tertiary Care Program, Evaluation of Heritage Woods (an Innovative Living Centre for Demented Older Persons), and Evaluation of Pioneer Place.  
Dr. Gamroth served on various professional and community organization boards involving nursing and gerontology. She received several awards for her research and teaching excellence including the Excellence in Nursing Education Award. Her academic work includes numerous publications of referred articles, abstracts, book chapters, and invited presentations, including keynote presentations at learned conferences throughout the world. She also served on over 20 supervisory committees for graduate students. 
Dr. Gamroth's contribution to the Collaborative Nursing Program (CNP) was particularly valuable as the Ten-Partner Program moved forward for accreditation in 2000. Serving as Program Coordinator involved travel to each program to discover its unique strengths, and to appreciate how each School of Nursing was contributing to the whole group. The CNP of BC was granted a ten-year accreditation by the Canadian Association of University Schools of Nursing (CAUSN) in 2000. Another valuable goal that Dr. Gamroth undertook as Coordinator was the introduction of scholarship within all programs.