Sister Kathleen Cyr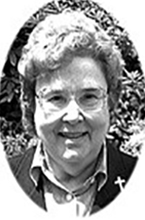 Sister Kathleen Cyr was born in 1933 in New Westminster, BC, and died on May 3, 2011 at St. Ann's Residence in Victoria, BC. She graduated from St. Ann's Academy in New Westminster in 1950, and entered the Sisters of St. Ann in Victoria in 1952. Her ministry encompassed education, health care, and congregational leadership.  
After six years as an elementary school teacher, Sister Kathleen prepared for her extensive health care ministry, obtaining a BSN from Seattle University, WA, and an MA in Psychosocial Nursing from the University of Washington. She was also certified for adult learning facilitation, various psychology and counselling specialties, and in the area of spirituality. Sister Kathleen nursed at the Bulkley Valley Hospital, did emergency and surgical nursing at St. Joseph's Hospital in Victoria (1964 to 1967), taught psychiatric nursing at St. Joseph's School of Nursing, served in hospital administration, and was local leader for the Sisters at St. Joseph's from 1968 to 1972.  
Following her studies, Sister Kathleen served in Ladysmith as a Public Health Nurse (1974 to 1976). Between 1976 and 1980, she co-founded and taught in the BSN Nursing Program at the University of Victoria. In 1986, she was elected as Congregational Councillor for the Sisters of St. Ann in Lachine, Quebec. Upon her return to Victoria, Sister Kathleen served as administrator of Queenswood Spirituality Centre (1993 to 2002) and subsequently as Co-Leader at Mount St. Angela, a home for retired nuns in Victoria.  
Most recently, Sister Kathleen served as a member of the SSA Provincial Council. She was also co-chair of the Advisory Council for the UVic School of Nursing and collaborated on projects of the Anglican Diocese of BC. Sister Kathleen oversaw the building and opening of St. Ann's Residences and served as the administrator for the Queenswood Spirituality Centre. She was instrumental in seeing this property was sold to the University of Victoria so that the legacy of the Sisters of St. Ann to promote health and education in the province could continue in perpetuity. Sister Kathleen's lifelong dedication to health and education will continue through students at the University of Victoria and through the Sisters of St. Ann Scholarship in Nursing and Bursary in Education. 
Times Colonist Obituary 
Obit: https://www.legacy.com/obituaries/timescolonist/obituary.aspx?n=kathleen-therese-ann-cyr&pid=150779299&fhid=7653