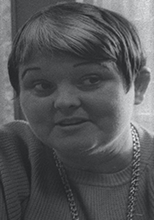 Dr. Carolyn Attridge (1936–2010) was the third Director of the University of Victoria School of Nursing. According to her Times Colonist obituary, Dr. Attridge was originally from Hamilton, Ontario. She became a nurse, an educator, and a researcher, occupations she pursued with passion and commitment. 
She completed her undergraduate education in nursing in 1957, at a time when it was highly unusual for nurses to be educated at the university. She later completed graduate studies in pediatric nursing at the University of Washington, and in 1975, earned a PhD in Curriculum and Instruction from the Ontario Institute of Studies in Education at the University of Toronto. She taught nursing at Ryerson Polytechnic (now Ryerson University) and conducted research at McGill University in programs that were, and are, recognized for challenging the traditions of nursing education.  
Dr. Attridge moved west to Victoria in 1981, joining the School of Nursing at the University of Victoria. Her motivation was to engage in further educational innovation — this time, to develop educational programs for nurses who could remain in their home communities and access higher education through distance education technologies.  
Later, as the third Director of the School of Nursing, Dr. Attridge led further educational innovations. With colleagues from across the province, she was instrumental in developing a partnership of Schools of Nursing that eventually made it possible for nurses to complete their baccalaureate degree in their own communities at a time when the degree was becoming the entry requirement for the practice of nursing. In her research, she concerned herself with the quality of nursing work environments. She was recognized as a leader in the profession and her standing was acknowledged in 1999 with an Award of Distinction from what was then the Registered Nurses Association of British Columbia.