Tyrone Austen: a proud HINF grad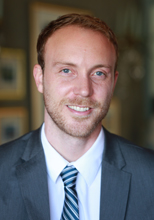 Tyrone Austen is a very proud graduate of the BSc and MSc Health Information Science (HINF) programs. In 2008 he graduated with a BSc Combined Major in Health Information Science and Computer Science and in 2010 he graduated with a MSc in Health Informatics.
After a couple of years in computer science, Tyrone decided to take time off of school to volunteer at an HIV/AIDS charity in Offinso, Ghana (via Travel Cuts in the SUB, if you're wondering). There he discovered that working in healthcare was his passion. "Lucky for me, and much to my surprise, when I returned home to Canada, I found the Health Information Science program by chance in the UVic Calendar and instantly fell in love." Tyrone was thrilled that Health Information Science included everything that he was passionate about in computer science (technology, innovation, and problem solving) and added the motivation and satisfaction of being able to directly contribute to the health of individuals and populations.
Tyrone says his "time in the school of Health Information Science was nothing but fantastic." He formed many close bonds with both the students and the professors in the program. He says that "The relationships I built during my schooling have payed dividends throughout my career. The industry is so small that if you don't know someone directly, you're bound to know someone else who will. This comes in handy later on when you're looking for references!"
Tyrone encourages everyone to take co-ops seriously! In his first co-op with CIHI in Toronto, he helped build a database to track the history of Canadian healthcare organizations. The impressions he made with the manager on that project turned into the direct lead for his current position, close to 10 years later. The co-op program also supported another one of Tyrone's passions, travel! "Dave Hutchinson (one of the best career resources you will ever have) was able to coordinate a position for me to consult with the European Commission in Germany for my last co-op" says Tyrone. He encourages others "not to be afraid to expand your horizons and think outside of BC or Canada! Even today, my international co-op looks great on my resume!"
After graduation Tyrone explored the consulting world. "I felt that frequently taking on new and challenging projects with different clients across Canada and internationally would give me the best breadth of experience to ramp up my career." Over the past 8 years, he has taken on roles in business analysis, quality assurance, change management, and project management for healthcare clients in BC, Alberta, Saskatchewan, Ontario, the US, and even as far as Qatar and Tonga! He has helped develop provincial population health systems, led a multi-million-dollar utilization management system, and helped craft a business case for international gestational diabetes outreach.
Tyrone believes there is never a dull moment in the field of health informatics, which means that you're in for a lifetime of learning. "You can't put the books down when you graduate!"