HSD Awards

Helen Monkman - 2021 HSD Award for Teaching Excellence
This award recognizes excellence in teaching, educational leadership and innovation across key priorities for HSD including multidisciplinary work, community-based learning and teaching and distance education.
Dr. Helen Monkman, assistant professor with UVic's School of Health Information Science, leads an undergraduate curriculum review, applies her funded scholarship toward community-engaged learning, mentors students and practices interdisciplinary scholarship.
Her students say, "Dr. Monkman challenges us to think critically, stretch intellectually and encourages us in our career aspirations." - "Our classes were innovative and inclusive of skill-building and practical experience components." - "She ensured that each student understood the material by using interactive teaching techniques that challenged the traditional slide and lecture format."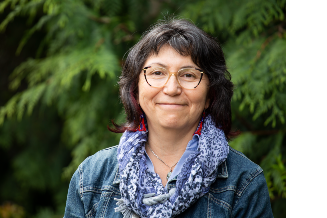 Leanne Kelly - 2021 HSD Award for Internal Teaching Scholarship Grant
This grant was created to stimulate and foster interdisciplinary collaborative projects related to teaching and learning with a preference to projects that incorporate racially, ethnically, culturally and linguistically diverse dimensions into teaching and learning. 
Leanne Kelly's project - Reciprocal Educator Mentorship - is a cross cutting community engaged teaching project that links Indigenous nurses who practice in the community with non-Indigenous faculty members with a view to disrupting inequity in understandings of Indigenous Health and Wellness. 
Kelly says, "I want to create transformational opportunities for learning through supporting Indigenous pedagogies and Indigenous cognitive world articulation, and to elevate personal narratives as knowledge and support the development of Indigenous nursing experience as evidence."
---
Submit a nomination
Teaching Excellence and Educational Leadership
Nominations for two HSD Awards -- Teaching Excellence and Educational Leadership -- are due November 1, 2022. The award is presented in December each year at an informal event held prior to school closure for the holidays. The following links provide information on HSD Awards and the same nomination form can be used for either award category. Please contact the office of Maureen Ryan, Associate Dean Academic, if you have any questions - hsdasdn@uvic.ca
Island Savings HSD Staff Professional Development Award
The Island Savings HSD Staff Professional Development Award is offered to a staff member in the Faculty of Human and Social Development who inspires their colleagues by building a sense of community and contributing to a spirit of wellbeing within the faculty. The award is to be used by the recipient for professional development opportunities. This award supports our HSD strategic priorities by fostering a healthy and inclusive culture and raise our visibility and impact locally.