Benjamin Butterfield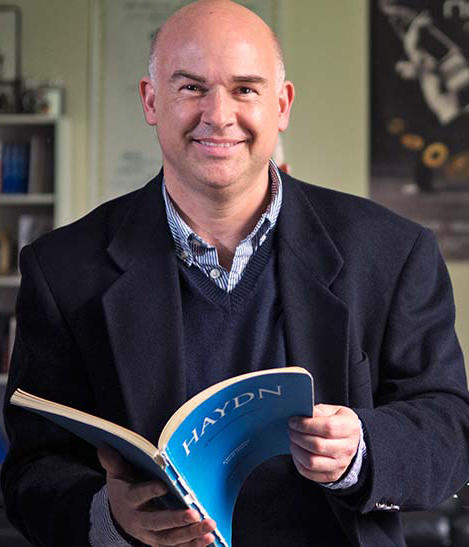 Position
Professor
Voice, Opera, Head of Voice, Co-head of Performance
Contact
Credentials
Lic. Music (McGill), Fellow of the Royal Society of Canada
Area of expertise
Voice, Opera, Head of Voice, Co-head of Performance
Areas of research & creative activity 
Benjamin Butterfield's research on "the art of singing" is tied to his interest in the inherent ability of our species to respond vocally by reflex to thoughts, emotions and understanding. His teaching is rooted in the concepts of "functional freedom" (Cornelius Reid), "unleashing the expressive, resonant voice" (Kim Mattice Wannat) and "the art of breathing" (Nancy Zi) while maintaining a solid foundation in the traditions of Bel Canto as celebrated through the maxims of Lamperti "…[to avoid] the decadence of this divine art."
Inspired by his teachers Selena James, William Neill, Diane Forlano, with mentorship from Michael McMahon, Don Tarnawski and Leopold Simoneau O.C., Professor Butterfield has maintained an active performing career for the past 30 years. He enjoys a diverse repertoire in opera, oratorio and song— both in live concert and on recordings—and has been fortunate enough to work with remarkable colleagues and organizations in some of the world's most recognized and historic venues.
Courses 
MUS 140: Lyric diction
MUS 362: Vocal pedagogy
MUS 335: Singing for the stage
MUS 140–440: Individual tuition
MUS 345–545: Individual tuition: performance
MUS 181–581: Chamber music: Voice ensemble
Brief biography
Benjamin Butterfield studied voice with Selena James at the Victoria Conservatory of Music and at the Banff Centre for Arts and Creativity. He later graduated from McGill University and was awarded grants from the Canada Council for the Arts to study in the USA, UK and Italy. He was recognized by the Sullivan Foundation and Oratorio Society of New York and was a participant at the Steans Vocal Institute at the Ravinia Festival, Chicago.
In conjunction with his tenure at UVic, Benjamin maintains an active singing career and is represented by Schwalbe & Partners in New York. Performance highlights include: Handel's Tamerlano with the legendary stage director Jonathan Miller at Glimmerglass Opera; Montreal Jazz Festival with Dave Brubeck; sharing the stage with film star Isabella Rossellini at the San Carlo in Naples and Epidaurus in Greece, filming Messiah for ZDF at the Handel Festspiele-Halle with Trevor Pinnock and performing in Bach's St. Matthew Passion for Coretta Scott King at the National Cathedral in Washington DC. Other performances have included Rossini's Barber of Seville with Welsh National Opera, Mozart's Magic Flute at New York City Opera, Haydn's Creation with the Orchestra of St. Lukes at Carnegie Hall and Stankovych's Kiddish Requiem with the Hamburg Philharmonic in Kyiv, Ukraine for the 75th anniversary of Babyn Yar. Heard regularly on CBC Radio and nominated for several Juno Awards, Mr. Butterfield has also been featured on episodes of This is my music.
Professor Butterfield previously served on faculty at York University in Toronto and has taught and performed at Opera Nuova Edmonton, Opera on the Avalon in Newfoundland, the Vancouver International Song Institute, the Amalfi Coast Music Festival in Italy, the Victoria Conservatory Summer Vocal Academy, Orford Musique in Quebec and at Yellow Barn in Vermont.
Selected recordings
Selected performances
Rossini Barber of Seville (Desderi) – Théatre du Capitole, Toulouse, France.
Ravel L'enfant et les sortilèges (Slatkin) – National Symphony, Kennedy Centre, Washington.
Messiaen St. François d'Assise (Nagano) – Montreal Symphony.
Purcell Dido and Aeneas (Minkowski) – Les Musiciens du Louvre, BBC Proms, London.
Schönberg Gurrelieder (Saraste) – Toronto Symphony Orchestra, Roy Thomson Hall.
Orff Carmina Burana (Tovey) – Los Angeles Philharmonic, Hollywood Bowl.
Dvorak Stabat Mater (Tausk) – Vancouver Symphony.
Ryan Afghanistan: Requiem for a Generation (Minczuk) – Calgary Philharmonic.
Handel Messiah (McCreesh) – San Francisco Symphony
Puccini Messa di Gloria (Grossman) – Taipei National Concert Hall, Taiwan
Handel Jephtha (Creed) – RIAS Kammerchor, Berlin and Paris.
Mozart Requiem (Alsop) – Baltimore Symphony
Reviews
Music samples
Links