Malcolm Armstrong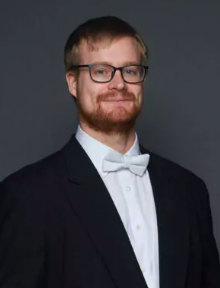 Position
Music Performance Instructor
Double bass
Contact
Credentials
BMus (University of Ottawa), Artist Diploma (Glenn Gould School at the Royal Conservatory of Music, Toronto)
Courses taught at UVic
MUS 140-440: Individual Tuition (double bass)
MUS 345-445: Individual Tuition: Performance (double bass)
Biography
Canadian double bassist Malcolm Armstrong joined the Vancouver Symphony Orchestra in June of 2019. Prior to his arrival in Vancouver he served for 3 years as principal double bass of the Hawai'i Symphony Orchestra. A native of Ottawa, Malcolm was inspired to pursue a musical career by his father, trombonist and conductor Angus Armstrong, and his uncle, Daniel Armstrong, who has led a 40-year career as a double bassist with the Winnipeg, Milwaukee and Chicago symphony orchestras.
Malcolm studied with prominent double bass players Jeff Beecher and Joel Quarrington, as well as his uncle Dan Armstrong. Malcolm is a recipient of numerous awards and honours including the National Youth Orchestra of Canada's Award of Excellence. He performed with the NYO in 2012, 2013, 2014 and 2017, the latter season documented by filmmaker John Bolton in That Higher Level, for the National Film Board of Canada. Malcolm has toured extensively throughout Canada, as well as to South Korea with the Orford Arts Centre Orchestra. In addition to his performing duties, Malcolm is a devoted teacher and has coached at educational programs such as the Hawaii Youth Symphony, Ottawa Youth Orchestra Academy and Orkidstra.
Malcolm joined the faculty at UVic in fall of 2023.