Harald Krebs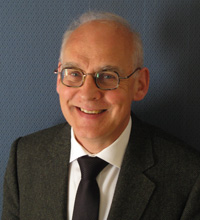 Position
Distinguished Professor Emeritus
Contact
Credentials
BMus (UBC), MPhil (Yale), PhD (Yale), FRSC
Area of expertise
Areas of research & creative activity 
Rhythm and meter
German Lieder (analysis as well as performance)
Music by 19th-century women composers (analysis; editing unpublished songs) 
Courses
MUS 101A/B (The Language of Music)
MUS 201A/B (The Language of Music)
MUS 401A (Introduction to Schenkerian Analysis; Analysis of Rhythm and Meter)
MUS 500 (Analysis of Early 20th-Century Music; Introduction to Schenkerian Analysis; Analysis of Rhythm and Meter; Analysis of Song)
MUS 531 (The Late Music of Robert Schumann)
MUS 181-581 (Collaborative Piano)
Brief biography
Harald Krebs holds a Ph.D. and an M.Phil in Music Theory from Yale University, and a Bachelor of Music degree in piano performance from UBC. He has served as president and vice president of the Society for Music Theory, and as president of the Pacific Northwest chapter of the American Musicological Society. In the School of Music, he was the head of the music theory area and has served as Acting Director (fall 2015).
Harald is a champion of the music of 19th-century women composers and has lectured and published widely on this topic. His monograph Fantasy Pieces: Metrical Dissonance in the Music of Robert Schumann (Oxford 1999), which won the Society for Music Theory's Wallace Berry Award in 2003, has shaped the study of rhythm and meter not only in music theory, but also in the fields of comparative literature, Germanic studies, music therapy, psychology, and music cognition. His theories of meter are being applied in the study of music from the early modern era to the present day, and in scholarship on many different musical styles and genres, including jazz, bluegrass, rock, techno, and metal.
Harald strives to enrich the learning environment at the School of Music by organizing conferences and workshops that bring illustrious scholars from around the world to our university. He has organized or co-organized seven academic conferences at UVic, plus two symposia in connection with the Lafayette String Quartet's Second Viennese School and Shostakovich festivals.
Harald is active as a pianist as well as a scholar. He brings these activities together in his presentations and publications, many of which include his performances of the repertoire being discussed. He has performed in numerous recitals at UVic and in Vancouver as a collaborative pianist.
Selected publications
"Josephine Lang's Multiple Settings of Poems by Christian Reinhold Köstlin." In Analytical Essays on Music by Women Composers: Secular & Sacred Music to 1900, ed. Laurel Parsons and Brenda Ravenscroft (New York: Oxford University Press, 2018), 176-207.
"Expressive Declamation in the Songs of Johannes Brahms." In Brahms and the Shaping of Time, ed. Scott Murphy (Rochester: University of Rochester Press, 2018), 13-48. 
"The Influence of Clara Schumann's Lieder on Declamation in Robert Schumann's Late Songs", SMT-V 2.1 (February 12, 2016) 
"Sentences in the Lieder of Robert Schumann: The Relation to the Text." In Formal Functions in Perspective: Essays on Musical Form from Haydn to Adorno, ed. Steven Vande Moortele, Julie Pedneault-Deslauriers, and Nathan John Martin (Rochester NY: University of Rochester Press, 2015), 225-251.
"Functions of Piano Introductions in the Lieder of Josephine Lang." In Women and the Nineteenth-Century Lied, ed. Aisling Kenny and Susan Wollenberg (Farnham, Surrey; Burlington, VT: Ashgate Press, 2015), 85-93.
 "Treading Robert Schumann's New Path: Understanding Declamation in the Late Lieder Through Analysis and Recomposition", Music Theory Online 20/4 (December 2014), 
 "Motion and Emotion: The Expressive Use of Declamatory Irregularity in the Lieder of Richard Strauss", solicited keynote article, Music Theory and Analysis I (October 2014): 5-37.
The String Quartets of Béla Bartók: Tradition and Legacy in Analytical Perspective¸ ed. Dániel Péter Biró & Harald Krebs (New York: Oxford University Press, 2014).
Josephine Lang. Lieder nach Texten von Reinhold Köstlin, Denkmäler der Musik in Baden-Württemberg, Vol. 20 (München: Strube Verlag, 2008). 
Krebs, Harald and Sharon Krebs. Josephine Lang: Her Life and Songs (New York: Oxford University Press, 2007).
Fantasy Pieces: Metrical Dissonance in the Music of Robert Schumann (New York: Oxford University Press, 1999).
Videos
Documents