Patricia Kostek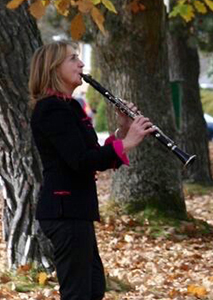 Position
Professor Emerita
Contact
Credentials
BSc (Mansfield State Coll.), MM (Mich. State)
Area of expertise
Brief Biography
Patricia Kostek is a versatile musician with diverse and eclectic range of repertoire. Patricia has given recitals and masterclasses, and served as a competition jury member in major cultural centers of Europe, Asia, Canada, the USA, Mexico and South America. She has adjudicated for International Music competitions in Brazil, Belgium, Paris, Quebec City and Buenos Aires. Patricia has performed in many of the finest international concerts halls and in noted international music festivals and as well as with numerous orchestras in North America and Europe including the Chicago Symphony, Honolulu Symphony and Kansas City Symphony, the Orquestra Sinfonica de Teatro Colon de Buenos Aires (soloist) and Orquestra Sinfonica da Bahía (soloist). She has performed under the guidance of numerous eminent conductors as Sir George Solti, James Levine, Simon Rattle, Edo de Waart. Patricia was featured soloist at the Shanghai International Clarinet Festival and has performed at Encontro IV Beazilian National Clarinet Festival (Rio de Janeiro ) and for several years at the Buenos Aires International Festival.
The Usinger Anzeiger (Germany) spoke of "the perfection of her tone, unbelievably smooth and amazingly differentiated in its nuance". The Kansas City Star wrote of "intelligent and intense musicianship", "deft, imaginative playing", "lilting grace" and of "her command of instrumental color and psychology". The Bad Nauheim (Germany) Zeitung wrote "an exquisite evening of chamber music".
In the Pacific Northwest area Patricia has performed with the Pacific Opera Victoria, the Victoria Symphony, the Lafayette String Quartet and with many critically acclaimed ensembles. She serves artistic director Chamber Music San Juans and co-artistic director of  Clarinetfest 2007, Vancouver, conference of the International Clarinet Association. An active studio musician, Patricia records regularly with the Seattle based Northwest Sinfonia and as such, can be heard on the soundtracks of many movies and video games. Her principal teachers include Larry Combs, Elsa Ludewig-Verdehr, Robert Marcellus and Konrad Owens.