John Celona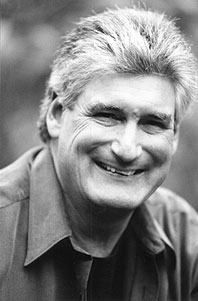 Position
Professor Emeritus
Contact
Credentials
B.M., M.A. (San Fran. St.), Ph.D. (Calif., San Diego)
Area of expertise
Composition, Computer Music, Music Theory
Brief Biography
John Celona, born in San Francisco, studied music composition at San Francisco State (B.Mus., M.A.), University of Pittsburgh (Mellon Doctoral Fellow), Indiana University and University of California, San Diego (Ph.D.) where he was affiliated with the Center for Music Experiment. His teachers include Henry Onderdonk, Iannis Xenakis and Kenneth Gaburo. He also played tenor saxophone on the SF jazz scene, created his own quartet while sessioning with such artists as Carlos Santana, Sun Ra and Coltrane's bassist Raphael Garrett.  As an experimental music director,  he founded the new music ensemble, the 'Networks Orchestra'. In 1977, he came to the University of Victoria where he taught composition, conducted new music, pursued research in music-compositional software and, from 2000-2008, he was Associate Dean. 
His compositions project timbral and spatial music for acoustic ensembles and real-time computer music performance. John is also the inventor and designer of TimbreSpace, a real-time music composition, orchestration, analysis and performance Macintosh software application. This work has been supported by two successive Canada Council Media Arts Creative Development Grants.
John Celona's work has led to performances in 20 countries and includes a 1985 first prize award in the Bourges Electroacoustic Competition for Possible Orchestras (at the 21st Harmonic) and a 1972 first prize in the New York BMI Awards for orchestral and choral compositions.  His music is recorded on Folkways (Music in Circular Motions), Radio Canada International (Cordes de Nuit),  Miramar Records (To Drive in LA  with Salvador Ferreras, percussion), Music Gallery Editions (Instrument Flying with Salvador Ferreras), 'Steal The Thunder' (Instrument Flying with Trevor Tureski), two SoundPrints CDs (Pacific Rims andsum over histories with the Sound Pressure sextet), Shelan CDs 'Music from the Americas 3' (Player Piano with alcides lanza), CMC Centrediscs 'Coastal Waves' (Possible Orchestras at the 21st Harmonic), and the Ex Novo Ensemble di Venezia CD 'Ouverture' (Basilica Nuova ) released in Europe.  As conductor,  John appears on the Centrediscs CD featuring the piano concerto Remember Your Power,   music by John Burke (Canadian Music Centre Centrediscs) and the DVD Arnold Schoenberg's Pierrot Lunaire (UVic Studios for Integrated Media).  As composer/performer and jazz artist,  John's work is recorded on the CD BlueCity 'CityLights' (http://www.bluecityjazz.com). 
John pursued research in broadband content through a CFI grant 'Enabling Interactive Futures' as well as created new media works using HD video, text and surround sound as part of a SSHRC Research/Creation Grants in Fine Arts 'Networks Performance'.
Achievements:
The Strange Case of DJ Cosmic (30-minute film and music by John Celona with actors Duncan Regehr, Thea Gill and Miles Meadows) posted on IMDb (Internet Movie Database) webpage 23Mar10 goes viral in five days: China, Russia, India, Scandinavia, Germany, UK, USA, Mexico and Latin America. Bit Torrent logs 4300 hits in four days (30Mar10-2Apr10). Watch 'The Strange Case of DJ Cosmic' on IMDb: http://www.imdb.com/title/tt1537960/
Awards:
2010 California Film Awards. Awards ceremony held on 22 January 2011, Bahia Resort Hotel in Mission Bay, San Diego.  Best in Category (honorable mention) for Nightfreight(screenplay), given to John Celona, present to give acceptance speech. Hosted by actress Marisa Petroro. 
2010 International Movie Trailer Festival. 'Best Art Direction' and finalist. Nightfreight (trailer). Produced, directed, shot, scored and edited by John Celona.
Watch 'Nightfreight' (trailer) on IMDb:
http://www.imdb.com/video/demo_reel/vi763730713/
2010 International Movie Trailer Festival 'Best Art Direction'
Music:
Listen to our debut album 'The Krells'
(Live electronica trio) 
Personal webpage:
John Celona's music on "www.culturecourt.com"
Recordings available from the Canadian Music Centre:
(Possible Orchestras, Pacific Rims, Player Piano, Sum Over Histories)