Joseph Salem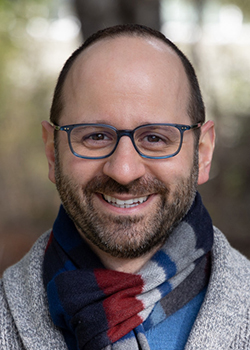 Position
Associate Professor
Music History, Musicology, Theory
Contact
Credentials
BMus (Texas), MA (Wisconsin), PhD (Yale)
Area of expertise
Music History, Musicology, Theory
Areas of research
With backgrounds in music theory, performance, and musicology, my research interests encompass a broad spectrum of topics, including musical semiotics, sketch studies, intertextuality in music, the critical exegesis of composer's writings and works, the sociology of music, the analysis of non-noted music, and sound studies. I have published extensively on the music of Pierre Boulez, but previous research includes ethnographic studies, work on opera, and a strong familiarity with common-practice music. As a pianist, I maintain a connection with piano repertoires from 1700 through the early 1900s.
Advising
I routinely advise graduate-level work across a wide variety of subjects spanning from 1750 to contemporary music and its practices. My strongest areas of expertise are mid-century avant-garde composition, critical theory (with an emphasis on aesthetics and semiotics), and the study of classical forms; recent research explores the music of The National in relation to standard formal conventions in popular music, including its sociological implications for audiences. Although I lack a talent for it, I also have a fondness for jazz and experimental electronic music.
Courses taught at UVic
MUS 534, Advanced Research Forum: Musicology

MUS 533, Graduate Forum in Musicology

MUS 531/2, Old and New: Intertextuality and Musical Reference in the Modern Era

MUS 532, History of Opera: Practice and Performance

MUS 532, Sound Studies and The History of Electronic Music

MUS 531, Serialism as Style, Technique, and Aesthetic

MUS 531, Case Studies in the History of Music Theory

MUS 532, Old and New: Intertextuality and Musical Reference in the Modern Era
MUS 503, Introduction to Music Bibliography and Methodology

MUS 502, Musical Aesthetics and the Theory of Criticism (History of Music Theory)

MUS 499, Graduating Projects in Music History

MUS 323/391, Forms and Genres in Music: The Twentieth Century String Quartet
MUS 323/391/532, Modes of Listening at the Intersection of Sound Studies and Music
MUS 301B, Language of Music (Music Theory VI), 1945-Present

MUS 220B, Music History IV, 1900-Present

MUS 220A, Music History III, 1750-1900
Brief biography
I was born and raised in Cincinnati, OH, and studied at the University of Cincinnati CCM Preparatory Department, where I had the privilege of working with members of the illustrious studios of Frank Weinstock and William Black. After completing studies in piano performance at the University of Texas at Austin (alongside Betty Mallard, Tim Lovelace, and Esther Wang), I went on to study music theory at the University of Wisconsin-Madison, with theses on J-P Rameau and Chopin. I began Yale as a music theorist, but later transitioned music history. After receiving a Fulbright scholarship and a Paul Sacher Stiftung Scholarship, I completed over 14 months of archival work in Switzerland on the music of Boulez, and then split my time between New Haven and New York City. I was appointed at UVic in 2015 after teaching a year at Yale. I am an avid gym-goer, love to cook, and encourage social hours with my graduate students whenever possible.
Selected publications
Forthcoming Monograph, Pierre Boulez: The Formative Years

"Teasing the Ever-Expanding Sonnet from Pierre Boulez's Musical Poetics." Music Theory Spectrum 41 (2): 1-27.
"Boulez's Künstlerroman: Using blocs sonores to Overcome Anxieties and Influence in Le Marteau sans maître." Journal of the American Musicological Society 71 (1): 109-154.
"The Integrity of Pierre Boulez's First Forays in Integral Serialism." Contemporary Music Review 36.5: 337-361, DOI: 10.1080/07494467.2017.1401366
"Serial Processes, Agency and Improvisation." In Boulez Studies. Ed. Edward Campbell and Peter O'Hagan, 221-245 (Cambridge UP).
"Engineering Social Space: The 'Silent' Structures of Alan Bishop's Radio Palestine." In Punk Ethnography: Artists and Scholars Listen to Sublime Frequencies. Ed. Michael E. Veal and E. Tammy Kim, 237-264 (Wesleyan UP).
"How Necessity Fueled Invention in Boulez's L'Orestie." Mitteilungen der Paul Sacher Stiftung 28: 23-29.
Review Article: Jonathan Goldman, The Musical Language of Pierre Boulez (Cambridge UP, 2011). Journal of Music Theory 57.2: 433-49.
Review: Edward Campbell, Boulez, Music and Philosophy (Cambridge UP, 2010). voiceXchange 5.1: 53-9.