Alexis Luko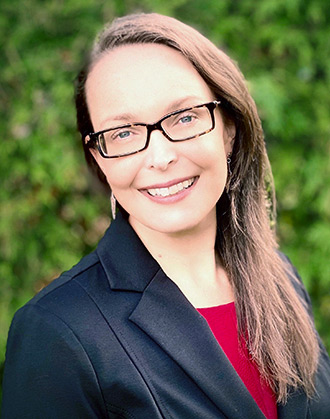 Position
Director; Professor
Music History, Musicology
Contact
Credentials
BA & BMus (UVic), PhD (McGill University)
Area of expertise
Music History, Musicology
Areas of research and creative activity
Dr. Luko is a musicologist with an international reputation in both film music and renaissance music. Her dissertation at McGill examined unification and varietas in music for the renaissance mass. She has published extensively on renaissance music as well as on music and sound in the films of Scandinavian film directors Ingmar Bergman and Jan Troell. Most recently, she has focused her research on monstrosity, music and film.  
In 2015 Dr. Luko published a monograph with Routledge titled Sonatas, Screams, and Silence: Music and Sound in the Films of Ingmar Bergman. She is now co-editing a book for Bloomsbury titled Monstrosity, Identity, and Music: Mediating Uncanny Creatures from Frankenstein to Post-Humanism (2022).
She has presented at national and international conferences, meetings, concerts, and film screenings and has been awarded two residencies at the Ingmar Bergman Estate. She was a keynote at the Bergman Centenary in Lund Sweden, at the City University London, at "Bergman Week" on the island of Fårö and in 2019 was invited by Stockholm University to participate in a workshop and publication titled Bergman at the Crossroads.
Recently, Dr. Luko co-organized two SSHRC-supported interdisciplinary conferences at Carleton University: 200 years of Mary Shelley's Frankenstein (2019), and Music, Sound and Media in Times of Crisis (2021).
Teaching
Dr. Luko teaches undergraduate and graduate courses on film music, opera, gender, and music of the Medieval, Renaissance, Baroque, and Classical eras. She loves to share her passion for music and has a strong record of teaching excellence in her courses. She is the recipient of the Carleton University New Faculty Excellence in Teaching Award, the Carleton Teaching Achievement Award, and the Carleton Faculty of Arts and Social Sciences Teaching Award.
Dr. Luko believes that music should be accessible to all. Over the years, she has taken delight in giving pre-concert and pre-screening lectures, making podcasts, and engaging in collaborative endeavors with community partners.
Brief biography
In 2021, Dr. Alexis Luko was appointed Full Professor and Director of the UVic School of Music. Previously, she worked at the College Music Department at the University of Rochester (2007-2008), at the Eastman School of Music (2008-2009), and in the School for Studies in Art and Culture at Carleton University (2009-2021), where she also served on University Senate, the University Sexual Violence Committee, and as Assistant Director (2019-2021). She holds a Ph.D. in musicology from the Schulich School of Music at McGill University.
Dr. Luko has presented papers at the City University London, at Ingmar Bergman: 100 Years (Lund, Sweden), at Ingmar Bergman Week in Fårö, Sweden, the Canadian Scandinavian Society, the Medieval-Renaissance Music Conference, the Nordic Musicological Congress, Music and the Moving Image Conferences, and at meetings of the American Musicological Society, the IMS "Music and Media" Study Group, the Société Québecoise de Recherche en Musique, the Canadian University Music Society, and the Arizona Center for Medieval and Renaissance Studies. Her research has been supported by the Social Sciences and Humanities Research Council, Carleton University, and the Société Québecoise de Recherche en Musique.
Selected publications
Books:
Book chapters:
"Becoming Frankenstein: Musical Moments of Monstrous Transformation in Cinematic Horror." In Monstrosity, Identity, and Music: Mediating Uncanny Creatures from Frankenstein to Post-Humanism. Edited by Alexis Luko and James Wright (Bloomsbury). Forthcoming in 2022.
"Metareference, Metalepsis, Self-Projection, Auteurship and Music in Ingmar Bergman and Liv Ullmann's Faithless," in Bergman at the Crossroads (Bloomsbury). Forthcoming in 2022.
"Laughing Through Tears: The Soundscape of Ingmar Bergman's Smiles of a Summer Night." In

In 

Ingmar Bergman: An Enduring Legacy

. Edited by Erik Hedling. Lund University Press, Sweden (2021).  
"Re-Sounding Trauma: Sonic Flashbacks in the Films of Jan Troell." In Music and Auteur Filmmakers in European Arthouse Cinema of the 1950s to the 1980s: Individuality and Identity. Edited by Michael Baumgartner and Ewelina Boczkowska (New York: Routledge University Press, 2019), pp. 184-206.
"Faith, Fear, Silence, and Music in Ingmar Bergman's Medieval Vision of The Virgin Spring and The Seventh Seal." In The Oxford Handbook of Music and Medievalism, edited by Kirsten Yri and Stephen Meyer (Oxford: Oxford University Press, 2020), pp. 636-661.
Articles in refereed journals and conference proceedings:
"Soundscapes of Memory, Dream and Flashbacks in the Films of Jan Troell." Journal of Scandinavian Cinema (forthcoming 2021).
"Musical Repetition in the Films of Ingmar Bergman." In The Proceedings of the Sixteenth Nordic Musicological Congress, 7-10 August, 2014. Stockholm University, ed. Jacob Derkert and Peder Kaj Pedersen, 133-143.
"Listening to Ingmar Bergman's Monsters: Horror Music, Mutes, and Acoustical Beings in Persona and Hour of the Wolf." Journal of Film Music 6, no. 1 (2013): 1-43.
"Ockeghem's Aesthetic of Concealment: Varietas and Repetition in the Missa Quinti toni." Tijdschrift van de Koninklijke Vereniging voor Nederlandse Muziekgeschiedenis 61 (2011): 3-24.
"Redefining the Motto in the Fifteenth-Century Sine nomine Mass." Cambridge Journal of Plainsong and Medieval Music 20, no. 2 (2011): 123-147.
"Tinctoris on Varietas." Early Music History 27 (2008): 99-136.