Technical Information
Available drawings and paperwork
Venue Information

. A complete list of the venue's available equipment (lighting, audio, staging and lobby equipment), as well as information that will help you plan for your event with us.
Paperwork:
Drawings:
Loading Access
Exposed exterior loading zone, will accommodate a 13.7m (45') semi-trailer
Loading doors are ground level with direct stage access
Loading door dimensions: 2.4m wide by 2.1m high (8' x 7'). Interior loading area dimensions: 5.1m by 4.7m (16'8" x 15'6")
Stage access doors - maximum dimensions: 2m wide by 2.1m high (6'6"w x 6'9")
An Auditorium zone permit is required for any vehicle in the loading bay longer than 15 minutes. These are arranged through the auditorium. There are spaces for up to two (only) vehicles that are five-ton truck sized and smaller.
Longer term bus and truck parking is available on campus. Please liaise with the auditorium for exact location and other details.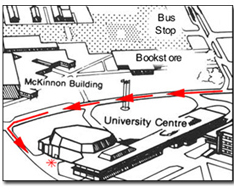 Seating Plans
Following what is known as a "continental" seating plan, the Auditorium seats are placed in unbroken rows. Each row has been spaced one foot farther apart than is conventionally done to allow for ample legroom and comfort. The longest seat-to-stage distance is 24m (79').