Student rush tickets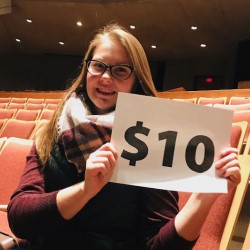 The Farquhar Auditorium has a program to help cash strapped students access great entertainment on campus!
$10 student rush tickets will be available for all shows in the Farquhar Presentation series. "We want the shows we present at the Farquhar Auditorium to be affordable and accessible," says Farquhar Director, Ian Case. "It's part of our service to the campus community to enhance cultural options for students. We have such dynamic and exciting programming and we hope this encourages students to come check it out."
Updates will be posted via social media and signage at the UVic Ticket Centre, 2 weeks prior of each qualifying performance. Student Rush tickets are subject to availability, with valid student ID, in person only. 
Check out the full Farquhar Presentation series https://www.uvic.ca/farquhar/farquhar-presents
While the program is primarily aimed at UVic students, the Student Rush Ticket Program is available to any student with valid student ID, including students from other post-secondary institutions and K-12 students. Follow us on Facebook and Twitter for updates on qualifying events.