Farquhar Presents series
Seek culture, creativity, community. Find it at The Farquhar at UVic.
The University of Victoria and the Farquhar at UVic are proud to announce Voices in Circle: Amplifying Indigenous Cultural Voices; a presenting and engagement series featuring established and emerging Indigenous artists.
Guided and curated by a Programming Circle of Indigenous and Métis  artists, arts administrators, academics and leaders; the series will present diverse artistic expressions including music, dance, theatre, burlesque, drag, comedy mixed media, lectures and visual arts with a regional, provincial and national scope.
 "This initiative is taking the first steps in true decolonization of institutionalized artistic spaces," says Programming Circle member, carver and musician Tejas Collison.
"It's a new way of doing things," says Ian Case, Director for the Farquhar at UVic.  "UVic is committed to walking the path towards Truth and Reconciliation and Canada's arts and cultural sector is changing.  We're committed to changing with it. We're reconsidering our traditional role as a cultural gatekeeper and making space for a new approach."
Community engagement activities will complement performances with talk-back sessions, workshops, artistic collaborations, knowledge sharing, mentorships, residencies and engagement with local Indigenous artists, Elders, communities, audiences and the public.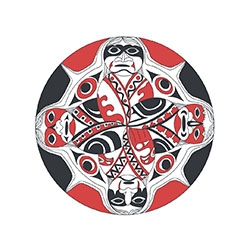 The concept began as a Medicine Wheel and depicts the earth that shows the four directions and the four races of people on earth which emphases diversity. The four figures merge into each other and are wrapped in a blanket symbolizing Love and Protection.
Clarence Butch Dick, Artist
Jeremy Dutcher 
September 9, 2022 at 7pm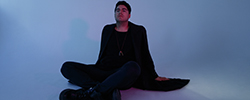 Jeremy Dutcher is a classically trained operatic tenor and composer who takes every opportunity to blend his Wolastoq First Nation roots into the music he creates, blending distinct musical aesthetics that shape-shift between classical, traditional, and pop to form something entirely new.
PIQSIQ
October 12, 2022 at 7pm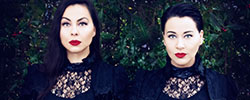 With a style perpetually galvanized by darkness and haunting northern beauty, sisters Tiffany Ayalik and Inuksuk Mackay come together to create Inuit style throat singing duo, PIQSIQ. Performing ancient traditional songs and eerie new compositions, they leave their listeners enthralled with their ability to weave complex emotional landscapes that transcend language.
Snotty Nose Rez Kids
November 30, 2022 at 7pm

First Nations hip hop duo composed of Haisla rappers Darren "Young D" Metz and Quinton "Yung Trybez" Nyce, originally from Kitamaat Village, British Columbia.  Young D and Yung Trybez formed the duo in 2016 and went on to win Best Hip Hop Artist at the Western Canadian Music Awards (WCMA's), the coveted Polaris Music Prize, and landed them a 2019 Juno Nomination for best Indigenous Music Album. SNRK were back in studio in 2021, creating their most personal project to date, LIFE AFTER, leading to a successful US tour, where the pair gained notoriety for their energetic, inspiring and thought provoking performances.
Variety Show
Feb 18 or 19, 2023 TBA

A variety show featuring local Indigenous artists. More details to be announced in Fall.
Tickets Coming Soon
Sebastian Gaskin
March 11, 2023 at 7pm 

Sebastian Gaskin is a multi-instrumentalist R&B singer-songwriter based in Winnipeg, Canada, who grew up in Tataskweyak Cree Nation. Sebastian writes and self produces music that is anything but formulaic, thanks to eclectic musical tastes in R&B, Hip Hop, Metal,and Punk. Get ready for smooth vocals, hits of hip-hop and rap, rounded out with emotive thoughtful lyrics.
The Voices in Circle Series proudly supported with funding from Department of Canadian Heritage and BC Arts Council
Also Part of The Farquhar Presenting Series 2022-23
Josephine 
October 15, 2022 at 7pm

This burlesque cabaret dream play is an international award-winning and off-Broadway one-woman biographical musical that combines cabaret, theatre and dance to tell the story of the iconic Josephine Baker, the first African-American international superstar and one of the most remarkable figures of the 20th Century
International Guitar Night
January 25, 2023 at 7pm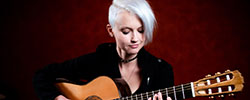 The 23rd Anniversary North American Tour of International Guitar Night features Isreali nylon string guitartist Itamar Erez, Soloist and Chamber Musician Stephanie Jones, Flamenco master Jesus Guerrero from Spain, and Canada's traditional jazz guitarist and vocalist Jocelyn Gould.