Marc Klimstra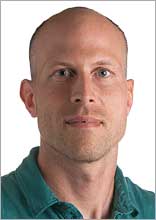 Position
Associate professor
Credentials
BKin (McMaster), BEd (Western Ont), MSc (McMaster, PhD (UVic)
Contact
Office: MCK 135
Description
Dr. Marc Klimstra is an Associate Professor. He co-coordinates the Motion and Mobility research laboratory with Dr. Sandra Hundza. His research interests are biomechanics and motor control of human movement in sport, exercise and rehabilitation.
Research interests
School integrated teaching education
Teacher games for understanding and electronic portfolios
Action research and qualitative research genres
Social constructivism and complexity theories
Selected publications
Ezzarane, R. A., Klimstra, M. D., Lewis, A. Hundza, S. R., & Zehr, E. P. (2011). Interlimb coupling from the arms to legs is differentially specified for populations of motor units comprising the compound H-reflex during "reduced" human locomotion. Experiomental Brain Research, 208(2), 157-168.
Robbins, D. W., Young, W. B., Behm, D. G., Payne, W. R. ,& Klimstra, M. D. (2010). Physical performance and electromyographic responses to an acute bout of paired set strength training versus traditional strength training. Journal of Strength Conditioning Research, 24(5), 1237-1245.
Phadke, C., Klimstra ,M., Zehr, E. P., Thompson, F., & Behrman, A. (2010). Soleus H-reflex modulation during stance phase of walking with altered arm swing patterns. Motor Control, 14(1), 116-125.