Sandra Hundza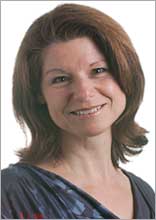 Position
Associate professor; Director
Contact
Office: MCK 122
Credentials
Area of expertise
Neural control of human movement and motor rehabilitation with aging and after injury and disease (e.g., stroke or Parkinson's disease); neural control of balance during walking and coordination of limbs and trunk during rhythmic movement; assistive devices and technologies related to mobility and mobility measurement
Description
Dr. Sandra Hundza is an associate professor and EPHE Director. Sandra has a clinical background in physiotherapy in the area of neurology, orthopaedics and geriatrics. She is also a research affiliate of CanAssist, Centre on Aging, Centre for Neuroscience, Centre for Biomedical Research, International Collaboration on Repair and Discoveries.
Research interests
Neural control of human movement and motor rehabilitation with aging and after injury and disease  (e.g., stroke or Parkinson's disease)
Neural control of balance during walking and coordination of limbs and trunk during rhythmic movement
Assistive devices and technologies related to mobility and mobility measurement
Selected publications
Hundza, S. R., Hook, W., Harris, C., Mahajan, S., Leslie, P., Spani, C., Spaltehloz, L., Commandeur, D., & Livingston, N. (In press). Accurate and reliable gait cycle detection in Parkinson's Disease. Transactions on Neural Systems and Rehabilitation Engineering.
Hundza, S. R., de Ruiter, G., Klimstra, M., & Zehr, E. P. (2012). Soleus H-reflex amplitude is unaffected by afferent input during arm cycling. Joural of Neurophysiology, 108(11), 3049-3058.
Zehr, E. P., Loadman, P.L., & Hundza, S. R. (2012). Cutaneous reflex modulation during arm cycling after stroke. Joural of Neurophysiology, 108(3), 891-905.