Biomedical Engineering alumni spotlight: Damon DePaoli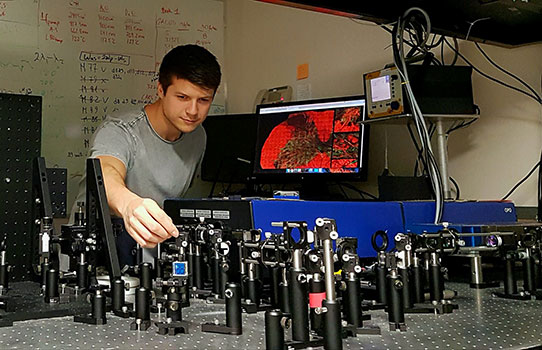 Damon is a UVic engineering graduate (class of 2014) with a degree in  Electrical Engineering with a "Biomedical Option" With a great interest in BME, he enrolled in many of the first BME courses offered at UVic, before the accreditation of the BME program (in 2016). He is now a PhD candidate in Biophotonics, at the CERVO Brain Research Center in Quebec City. Damon's PhD thesis is on creating neurosurgical guidance tools under the supervision of Prof. Daniel Côté at Université Laval. In this short autobiography, Damon talks about his education from the UVic engineering program and how that education has led him to where he is today, working in a start-up in Quebec and completing his PhD:
In 2009, I started my higher education in the Faculty of Engineering at the University of Victoria. I mainly chose engineering because I was good in the Math and Sciences, and well, I wanted a good job after university.  After first year, when it came time to choose a specific engineering discipline, I chose Electrical Engineering. At that time there was no BME program yet at UVic, however I had begun to realize that I had an interest in biomedical sciences.
At the beginning of my 3rd year, I took my first biomedical engineering courses (BME 200/201) taught by Dr. Willerth, as part of the new BME program, and I was hooked. Although the program was not going to be accredited on time for my graduation, I filled whatever courses I could with BME curriculum and focused on finding biomedical orientated coops to make up for it. Having this type of training at UVic had a major, positive impact on my career path. It even led to an opportunity of doing an NSERC research work term with Dr. Reuven Gordon in the nanoplasmonics laboratory, through an NSERC USRA award. It was during this work term I learned that I had a real passion for biomedical research, in particular. I ended up doing two work terms with Dr. Gordon, gaining invaluable work experience in research and biomedical applications of electrical engineering. This is something I would highly recommend to anyone unsure of whether they like research, or not.
After all this, I did something I never really considered doing in my life, I went go to graduate school. Through Dr. Gordon, I met Dr. Daniel Côté, a professor in Quebec City at the CERVO Brain research center (Université Laval). Dr. Côté's research focus was, and still is, making new imaging technologies for studying neurodegenerative diseases and improving neurosurgery. This combination of engineering, fundamental neuroscience and clinical applications of that research was exactly what I was looking. Three years later, I couldn't be happier with my decision. My specific thesis project is the creation of a fiber optic device to be used for optical guidance during deep brain stimulation neurosurgery. But it's not only my project that makes this work exciting, I contribute daily to other projects in our lab including the use of innovative optic technologies to study the effect global warming is having in the Arctic, the development of new optical fiber endoscopes to image neuronal activity in living animals, and even the decoding of how networks of neurons (real neurons) deal with information.  
During my time with Dr. Côté, I was fortunate to do two industry research work terms thanks to Mitacs scholarships. These scholarships are great because they are not too competitive and are partially funded by Mitacs, a non-profit organization, and by the company, so everyone wins. During these work terms, I gained unique experience working for a start-up in Quebec City, called Retnia, where I am still a part time employee during my studies. Specifically, at Retnia we are developing a non-invasive retinal oximeter, allowing optometrists to image and monitor the hemodynamics in the back of the eye. Using this information, we hope to be able to diagnose and monitor ocular and neurodegenerative diseases. What is really exciting about this work is that I actually use everything I have learned in my graduate studies to help Retnia improve their technology.  
So why did I never think I would go to graduate school? Because, I thought engineers don't need a MSc. or a PhD. to get a job, and yes, a lot of the time this is true. However, there's more to it than that. Graduate school can be an amazing opportunity to learn and research cutting edge technology. It also helps you build a resume built for project management and it can set you apart from the pack without much sacrifice. One of the stigmas I hear most is that only the top academic students do graduate school, and I think its important to know that this isn't necessarily true. I was never the top of my class, and I didn't receive big scholarships to fund my graduate schooling and so I really believe it's a career path that is accessible to anyone passionate enough to pursue it.

If my story strikes a cord with any of you, and you want more information on my experience with the BME or ECE program, pursuing graduate studies at CERVO, or if you are interested in retinal oximetry. I'd be happy to talk.
NSERC USRA: http://www.nserc-crsng.gc.ca/Students-Etudiants/UG-PC/USRA-BRPC_eng.asp
CERVO brain research center: https://cervo.ulaval.ca/en
Daniel Côté lab: http://www.dcclab.ca/en/
Retnia: http://www.retnia.com/