Daniela Constantinescu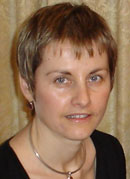 Position
Associate Professor
Mechanical Engineering
Contact
Office: EOW 543
Credentials
Area of expertise
Research Areas
Haptics
Robotics
Mechatronics
Dynamics and Control
Research Description
Dr. Constantinescu's research interests lie in the areas of robotics and mechatronics. Within these areas, she is interested in using robotic technologies, particularly haptics (computer-generated touch), for rehabilitation and for improving human manipulation performance. Current topics of interest include:
Guaranteed stable haptic simulation of multibody virtual environments.
Haptic rendering of virtual environments comprising both rigid and deformable models.
Collaborative haptic manipulation of multibody virtual environments.
Virtual constraints for rehabilitation.
Passivity-based and impulsive control of robotic systems.
Detailed information regarding these topics and/or graduate and postdoctoral research opportunities can be obtained by contacting Dr. Constantinescu by email. Candidates with a strong background in one or more areas of control, dynamics, programming, robotics, real time simulation, and signal processing are particularly encouraged to apply.