About the foundation
As the foundation believes that endowments are intended to exist in perpetuity, we have a long-term investment horizon and focus on long-term returns. The endowment management policy gives donors confidence that their gifts will continue to work for the benefit of the university for generations to come by providing stability and protection against inflation over time. 
Investment objectives include:
Preservation of capital in real terms
Generation of cash flow to meet expenditure objectives
Growth of cash flow to meet rising expenditures in the long term.
As at January 12, 2022:
Elected by the Members
Ms. Lisa Dempsey
Mr. Chris Donkers
Ms. Ann Glazier Rothwell
Mr. Jagdeep Shergill
Appointed by the Board of Governors of the University
Ms. Mary Garden (Chair)
Mr. Paul Siluch
Mr. Doug Stadelman (Vice-Chair)
Mr. Bryan Thomson
Mr. Duncan Webster
Ex-officio members
Dr. Kevin Hall
Ms. Kristi Simpson
Officers
Mr. Chris Horbachewski (Acting President)
Mr. Andrew Coward (Treasurer)
Ms. Carrie Andersen (Secretary)
Ms. Kathy MacDonald (Assistant Secretary)
Endowments are founded on the vision of a donor to create a lasting legacy at the university. Each fund is established individually to blend that vision with the needs of the university. Some of the areas supported by endowments include scholarships, awards, bursaries, experiential opportunities (such as co-op placements or field schools), fellowships, chairs, buildings and academic programs. The impact of this support is varied and far-reaching.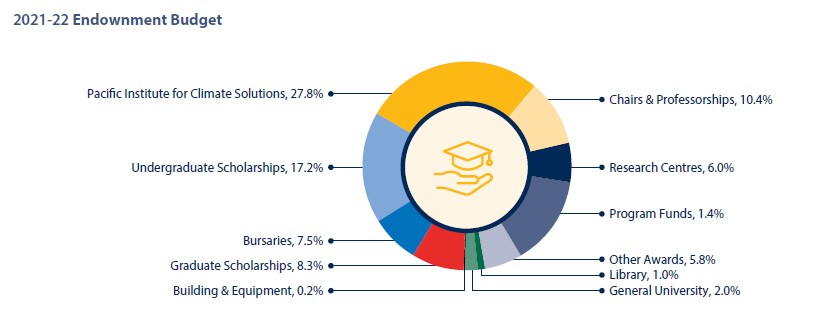 Explore some of the ways donors are supporting UVic through the foundation: